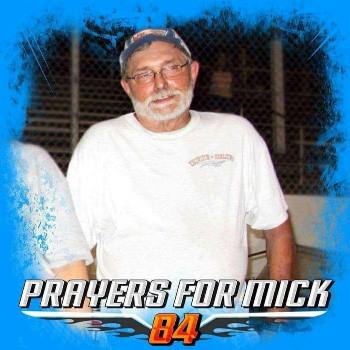 REMINDER: Mick Brooks Bowl-A-Thon Fundraiser & 2017 "Zoo" Meet and Greet This Sunday, March 26
kalamazoo
Please join us Sunday March 26th, 2017 at Pinz Bowling Alley in Kalamazoo on Stadium Drive. Due to the devastating incident that happened to Mick Brooks and the hardships it has placed on his immediate family, it is time for the racing family to roll up their sleeves & help out the Brooks family! We need bowling teams to get signed up ASAP as well as needing donations for items for the silent auction.
Besides raising a ton of money for the Brooks family, Kalamazoo Speedway will be using this gathering as their annual Meet & Greet for all of our racers. This will be an afternoon for all drivers, teams & track employees to gather and help out the Brooks fundraiser. We will also use this to time to get as many drivers registered for the upcoming season. There is a ton of paperwork that needs filled out for all drivers & track employees. We will have the following information and forms on hand ready to fill out:
NASCAR License Forms
2017 Driver Information Sheets
NASCAR decal packets (if we have them by then)
Minor Waivers **See Note Below**
Pit Spot Registration
Team Spirit Trailer Raffle Tickets for sale
Season Punch Cards for the Pits and/or Grandstands
Skybox tickets for weekly shows or the entire season
Rent-a-Ride sign ups
And just announced for all drivers who purchase their 2017 Nascar License at the Meet & Greet……..you will be in a drawing to win an 8 person skybox for your family for the May 5th event
***New for 2017, all drivers under 18 years old will need to show a birth certificate before the first time your car hits the track. This is a new insurance requirement so we will need you to bring in your Birth Certificate and we will have a notary on hand to get your once yearly minor waiver signed as well, if both parents are present.
Bowling Details
Bowling will begin at 2pm. We are requesting teams of four be put together to compete in the bowl-a-thon. The cost is $100 per team, which will include the cost of the two games and shoe rental. To reserve a spot for your team, contact the speedway office at (269) 692-2423, or email Sarah Maxwell at sara@kalamazoospeedway.com.
The bowler favorite "Strike Pot" will be back! The Strike Pot will be bowled in the 3rd frame of the 2nd game. The Strike Pot will be a $5 buy in, with half of the money going to the winner and the other half to the Brooks' family.
We will be a 50/50 drawing to benefit the Brooks family. After the winner for the money is drawn, we will draw a second ticket. The second winner will take home two season passes to Berlin Raceway for 2017!!We will be having a silent auction to help raise additional funds as well. There will be tons of give-a-ways from many area race tracks, chances to win tickets and even a chance to win a VIP Skybox for the season opener!