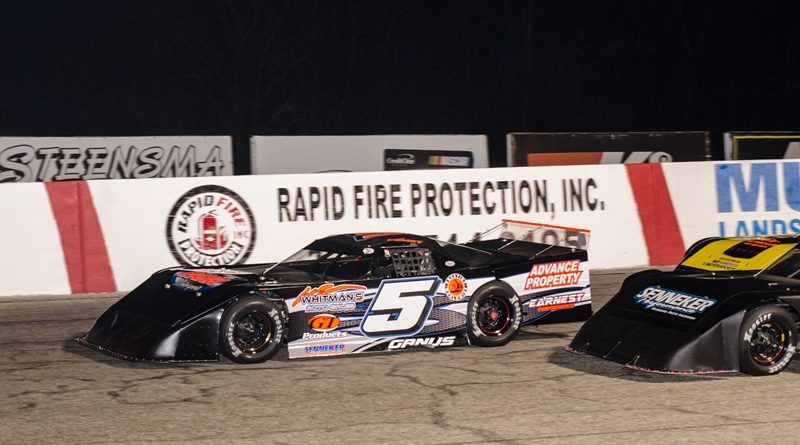 Rain Halts Intimidator 100 After 22 Laps, Sets Up Four Straight Weeks of Double Features
kalamazoo
After the long winter, Kalamazoo Speedway pits were overflowing for the annual Intimidator 100, Opening Night event. There were 146 cars on the property! With a strong car count of 32 cars, the Outlaw Super Late Model quick time award went to Tyler Roahrig. In the Late Model Sportsman division, Buddy Head was fast time, with Kyle Ribble scoring fast time in the Street Stocks. The Midwest Compact Touring Series invaded Kalamazoo Speedway Friday, but a speedway regular Paul Bittle held fast time against the touring drivers. Rookie driver Collin Bozell was fast time in the Zoo Stocks.
Starting off the night, the Outlaw Super Late Models had their last chance race. The top four finishers would join the field for the highly anticipated Intimidator 100. The last chance race went smoothly, with only one caution, for Matt Corliss spinning. The transfer positions went to winner Jack Landis, followed by Austin Maynard, Brandon Lyons and Andrew Brest.
Next up was the Zoo Stock 'A' feature, starting with 21 cars. After three complete restarts, the field was able to get sorted out and make a few green flag laps. Jerry Ballard jumped out to the early lead, only to be overtaken by Zoo Stock veteran, Nick Failing. Lap 6 saw another lead change after Colin Bozell charged from the last starting position. He went on to win the 20 lap feature. Second place went to Nick Failing, followed by Billy Edwards, Curtis Towne and CJ French round out the top five.
The invading Midwest Compact Touring Series had an event filled 'A' feature, starting with 23 cars. Kalamazoo Speedway regular, Brock Sweeter held an early lead, until being over taken by Paul Bittle. Bittle ended up taking home the checkered flag and coveted $1,000 prize. Jacob Alexander finished second with Phil Malouf in third. Rounding out the top five were Brock Sweeter and Wayne Stack.
As the Intimidator 100 hit the track, so did the pressure to beat the storm. Jeff Ganus took off with an early lead from a front row starting spot. He led through several cautions and restarts. Due to rain, the Outlaw Super Late Models were pulled in on lap 22 and the rest of the event was postponed.
Due to the Intimidator 100 not being at the halfway point, the race will be concluded on May 11 as part of a double feature night for the Outlaw Super Late Models. The Late Model Sportsman will have double features on May 18 and the Street Stocks will have double features this Friday, May 4. Not to be outdone, the Outlaw FWD's will also get their crack at double features on May 25, meaning the next four Friday's will see double features at the Zoo.