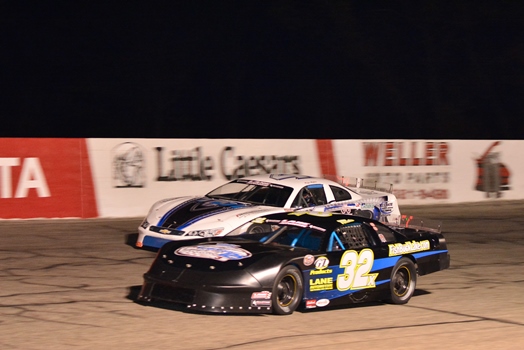 Pressler Brothers Finish 1-2 @ the Zoo
kalamazoo
Ma Nature cleared up nicely for June 23rd's racing event. The evening featured six different divisions of racing, two of which were visiting series of modifieds. The pits were full with 110 cars making an appearance. While qualifying for the feature events, Valerie Bozell, a 15 year old driver, set a new track record in the starter division of Flip Flop Cyber Stocks. Her lap was a quick 17.065 seconds. Up one more division is the Outlaw Cyber Stocks which saw a new track record set by Paul Bittle at a lap of 15.178 seconds.
The starter division of Flip Flop Cyber Stocks had a strong field of 21 cars. The feature was dominated by a first time Rent-A-Ride driver Randy Boffe. He started on the front row and led until Tony LoBretto charged to the front from 16th place to win the race on a last lap pass. Second place went to Randy Boffe, followed by 3rd place driver Kevin Sweat. John Munro and Nick Failing rounded out the top 5 positions.
The Outlaw Cyber Stock division put on a start to finish race, without a caution. Rookie driver Taylor Sexton started out front and led the first 7 laps, until passed by Paul Bittle. He went on to win the race after lapping almost half the field. Second place went to Pete Doxey followed by Andrew Losey, Jeremy Young and two time feature winner Larry Richardson.
The Perfit Vintage Modified Super Series was one of the invading classes to Kalamazoo Speedway for the night. They brought a strong field of 19 cars. Their 20 lap feature went from green to checkered and proved to be exciting through countless passes. Bob Martin picked up the win followed by Tom Boorsma. Third was Todd Wilcox followed by Jeremy Hamilton. Jordan Hunderman, a former Kalamazoo Speedway regular rounded out the top five.
One of Kalamazoo Speedway's most competitive divisions, the Pro Stocks, rolled off for their feature with 17 cars. Before completing the first lap, Pro Stock rookie driver Heath Bronkema had to be taken away on a wrecker after a crash in turn three. As always this stellar field put on a priceless show! Greg Brown made his way through traffic after starting 15th to pick up his 1st win of the season. He was followed to the checkered flag by Kyle Ribble, who started 11th. Three time feature winner Keith Wilfong finished third, with fourth and fifth place finishes going to Zack Cook and Barry Jenkins.
The Super Stocks rolled off as the highest regular division of racing. Their modest field consisted of 14 cars featured both rookie drivers and veteran drivers. After a hard fought battle for the lead, Cory Pressler overtook his brother Nick Pressler for the win. Cory made his way from 7th for another win this season. Nick Pressler finished second followed by defending champion Buddy Head. Fourth place went to Josh Trammell followed by Keegan Dykstra.
Invading Kalamazoo Speedway, the NSTA Top Speed Modified Tour brought a stellar car count of 22 modifieds. In the field, representing their home track were veterans Doug True and Brent Hook. Although the feature was originally scheduled for 50 laps a hard rain began falling at lap 46 and the feature had to be cut four laps short. Travis Eddy was leading the race when the rains came and thus was awarded the victory. Danny Jackson was the runner-up ahead of Loren Short, Bob Sible Jr. and Mark Bott.
This SATURDAY, July 1 Kalamazoo Speedway will host the Red, White & Boom Night of Destruction! This will be an action packed night of family entertainment featuring stunts, monster trucks, bus races, a mini enduro and more. Plus the night will be capped off with a HUGE fireworks display!
Kalamazoo Speedway is the place to be in 2017 for fast, clean, family fun! Kalamazoo Speedway plays host to some of the best entertainment events in the state and welcomes corporate groups, family outings and suite rentals. Call 269-692-2423 Monday through Friday to learn more or visit the Kalamazoo Speedway website.
For all the latest news and contests check out www.facebook.com/KalamazooSpeedway.
You can also follow Kalamazoo Speedway at www.twitter.com/kzoospeedway.