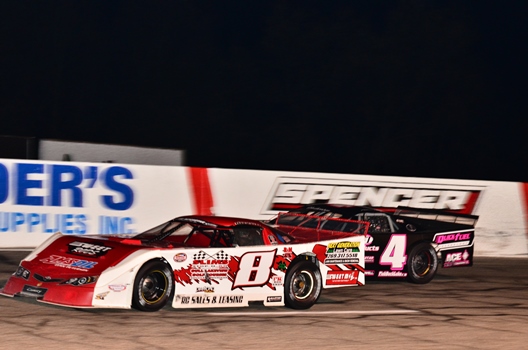 Phil Bozell Wins @ the Zoo
kalamazoo
Phil Bozell charged through the field to win the NASCAR Whelen All-American Series Outlaw Super Late Model feature Friday night at Kalamazoo Speedway.  Intimidator 100 fast qualifier Rick Senneker finished 2nd ahead of Adam Terry, Ryan Wheeler and Chris Garrett.  12-time champion Andy Bozell led the second half of the top ten over Billy Shannon, Jeff Bozell, Bill Tomlinson and Jerry Pierman.  Phil and Jeff Bozell split the two heat races while Mark Shook set quick time.  After two events Senneker leads the points over Phil Bozell (-15), Andy Bozell (-30), Matt Frazier (-42) and Terry (-51).
The Super Stocks put on one of the best races in recent memory with Brandon Lyons holding off fast qualifier Buddy Head in a spectacular late race duel.  Head tried every possible way to make the winning pass over the closing laps but could just never quite get it done as Lyons held on to win his second race of the early season.  Nick Pressler finished an impressive third ahead of Tom Wright and Jake Hopwood.  Veteran Rodney Smith finished sixth beating out Cory Pressler, multiple-time track champion Kenny Head, David Guarino and Gary Denzel.  Lyons and Guarino picked up the two heat race victories.  The win now puts Lyons just three points ahead of Buddy Head in the title fight with Kenny Head (-43), Cory Pressler (-52) and Smith (-53) rounding out the top five.
The Pro Stocks are expected to put on a great show every week and Kalamazoo and once again they did not disappoint.  2-time Super Stock champion Mike Zordan, making his return to racing after many years encountered mechanical problems on opening night, causing him to leave 15th in the point standings.  He rebounded in style on Friday night, holding off defending champion Matt Corliss in a thrilling late race duel to pick up the victory.   Zordan's task was made more difficult by surviving two late cautions with Corliss and 3rd place finisher Greg Haynes putting up tough challenges that kept the outcome up in the air until the very end.  Fast qualifier Keith Wilfong finished a solid fourth while Travis Hall came home in fifth.  Young Wil Raber finished sixth ahead of Barry Jenkins, Shane Miller, Mark Fliearman and 2015 Mini Stock champion Logan Knight.  Raber and Miller collected the two heat race wins.  After two races Corliss sits atop the standings but will have to overcome challenges from Wilfong -39), Haynes (-39), Greg Brown (-46) and Jenkins (-55).
Dan Rigoni started dead last in the Outlaw Cyber Stock field but methodically worked his way through traffic and collected the victory after setting quick time earlier in the evening.  Ryan Hufford was the runner-up ahead of Brian Gregersen, Doug Nelson and Dennis Letts.  The second half of the top ten was led by young Mason Dykstra who beat out Danny Rigoni, Heath Bronkema, 2015 Flip Flop Cyber Stock champion Brock Sweeter and Josh Vandusen.  Dan Rigoni and Nelson won the two heat races.  The strong start puts Dan Rigoni in the early season point lead over Gregersen (-41), Dykstra (-58), Nelson (-68) and Sweeter (-72).
The Flip Flop Cyber Stocks saw the return of the fan favorite "Rent-a-Ride" program as those drivers competed against the weekly drivers to see who would come out on top.  Also for the first time this year the field ran in the opposite direction (hence the name "Flip Flop").  After an incredibly clean race Lane Head, son of 4-time Super Stock track champion Buddy Head picked up the feature victory over Travis Reniger, Tony Lobretto, Dustin Worm (driving a Rent-a-Ride) and Joey Failing.  The second half of the top ten was led by Burt Brown over Chris Bradshaw, Dave Brewster, Ashley Markillie and Craig Balow.  Opening Night feature winner Valerie Bozell set quick time while heat races went to Markillie and Worm.  Head sits atop a very tight point battle with Reniger (-5), Lobretto (-11), Bozell (-24) and Failing (-43) all looking to knock him off of the top spot.
This Friday night, May 13 action continues with another full 5 in 1 show featuring the NASCAR Whelen All-American Series Outlaw Super Late Models.  With two winners in the first two races we will see if we can make it three for three this Friday night.  Senneker, Frazier, Brooks, Shook, Tomlinson and others all look to park their cars in victory lane this Friday night.  Also in action will be the Super Stocks, Pro Stocks, Outlaw Cyber Stocks and Flip Flop Cyber Stocks.  It is also the first TEEN NIGHT of 2016 as all kids 6-15 years of age will be admitted for JUST $2!!  There will also be many "teen activities" which will be announced in the coming days.  Also for the first time in 2016 the fan favorite Spectator Drags will take place during intermission.  You think you have what it takes to race around the Zoo?  Bring your street car and see if you can beat the others.  The two finalists will receive a cash prize and no race car drivers will be allowed to compete.  Grandstands open at 4:30, group qualifying is at 5:45 and racing starts at 7:30!
Kalamazoo Speedway will be the place to be in 2016 for fast, clean, family fun! The full 2016 Kalamazoo Speedway Schedule can be viewed at www.kalamazoospeedway.com. Kalamazoo Speedway plays host to some of the best entertainment events in the State and welcomes corporate groups, family outings and suite rentals. Call 269-692-2423 Monday through Friday to learn more or visit the Kalamazoo Speedway website.
For all the latest news and contests check out www.facebook.com/KalamazooSpeedway.
You can also follow Kalamazoo Speedway at www.twitter.com/kzoospeedway.