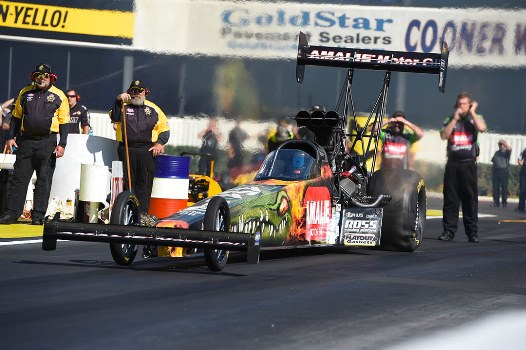 NHRA Top Fuel Dragster Driver to Race & Serve as Grand Marshall Friday, May 26th!
kalamazoo
Kalamazoo Speedway fans will be treated to a guest appearance by one of the fastest race car drivers in the world on Friday, May 26. NHRA Top Fuel Dragster driver Terry McMillen will serve as the Grand Marshall for the event and will get behind the wheel of a Flip Flop Cyber Stock! McMillen and his Amalie Motor Oil team reached the finals earlier this season at the NHRA Four-Wide Nationals, one of the biggest events on the NHRA circuit. McMillen currently sits 8th in the Top Fuel point standings and is on pace to make NHRA's Countdown to the Championship. McMillen has a career best speed of 326.71mph.
Kalamazoo Speedway owner Gary Howe said, "I think it's awesome that one of the greatest drag racers in the world has agreed to come hang out at an oval track for a night! Oval track fans and drag race fans both have something to get excited about for May 26th! I think Terry will have the opportunity to gain some new fans from our little world and we might be able to show some local drag racing fans that our product is pretty exciting also. It's a win-win for all parties involved."
McMillen is also excited about his trip to the Zoo. "While I come from a different discipline of racing, the way the fans embraced me last year was incredible. It's very cool meeting and talking to fans so close to home, which is Elkhart, IN. The opportunity to race at Kalamazoo Speedway is something that myself (and a couple of my crew guys) have been looking forward to since last year! We get to have fun racing without the pressure that we normally have….but don't get me wrong…just like when I drag race, I didn't come here to lose."
McMillen's appearance makes what was already a great night even greater. All five Kalamazoo Speedway weekly divisions will be in action that night with the featured event being the Lane Automotive Tri-Segment 75 for the NASCAR Whelen All-American Series Outlaw Super Late Models. This event will be the first of its kind as the wicked fast Outlaw Super Late Models will run a 75 lap event that will be broken into three segments, which will make the fast guys have to come from deep in the field more than once! Kids will be able to get in on the action as well as there will be scooter races on the track at 7:00, with Terry McMillen serving as the honorary flagman and getting a group picture taken with all of the kids! Finally, the night will conclude with a great fireworks display to kick off the Memorial Day weekend!
Kalamazoo Speedway is the place to be in 2017 for fast, clean, family fun! Kalamazoo Speedway plays host to some of the best entertainment events in the state and welcomes corporate groups, family outings and suite rentals. Call 269-692-2423 Monday through Friday to learn more or visit the Kalamazoo Speedway website.
For all the latest news and contests check out www.facebook.com/KalamazooSpeedway.
You can also follow Kalamazoo Speedway at www.twitter.com/kzoospeedway.
For more information on Terry McMillen, visit www.terrymcmillen.com. For more information on Amalie Motor Oil, visit www.amalie.com. For more information on Lane Automotive, visit www.laneautomotive.com.