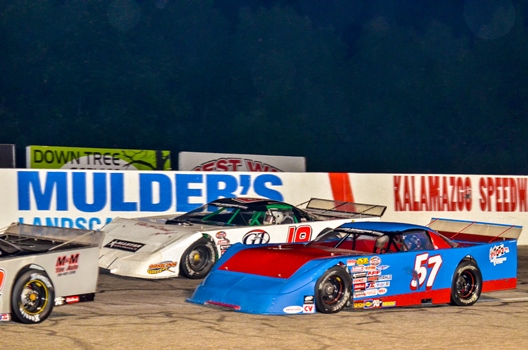 New Tire Change Announced for Super Lates & Super Stocks
kalamazoo
Hoosier Tire has developed a new tire that is very similar to its 970 series tire, which has been one of their bestselling, most consistent economy minded tire they have produced over the last decade.  The new D-800 has almost the identical look as the old 970 but has a heavier sidewall with build in wedge, much like a slick has.   The D-800 tire comes in the same chalk sizes so at the end of the season, a driver could mix & match your old tires with the new tire, to help use up the 970's that you already have on hand.  The D-800 has been proven to have much better repeatability and with the heavier sidewall, the tires are lasting longer than the older 970's.
Here is the allowed tire schedule for the remainder of the year:
This Friday, August 5th – 970's only.
The following two Friday's after the Klash, August 19th & 26th, the new D-800 will be allowed. Like mentioned above, you will be allowed to mix in your 970's with the D-800's.
For the Super Shoe, D-800's, 970's or 970 stars will be allowed.
The tire barn will have 970's this weekend (86.5" is the largest right side tire we have) with a full assortment of left side tires. Starting after the Klash, we will only be stocking the new D-800 tires.
Please contact Gary with any questions at gary@kalamazoospeedway.com