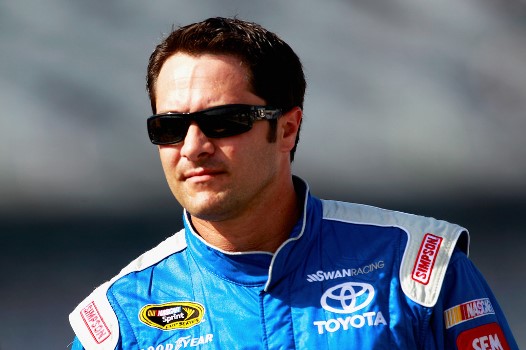 Monster Energy NASCAR Cup Series Veteran Files Entry for Gary Terry "Follow Your Dreams" 125
kalamazoo
KALAMAZOO, MI — Veteran Monster Energy NASCAR Cup Series driver, David Stremme will return to Michigan's Kalamazoo Speedway on Wednesday, June 14, to compete in the 2nd annual Gary Terry "Follow Your Dreams" 125 presented by GT Products. Stremme, a long-time friend and competitor of Gary Terry, will pilot Terry's own No. 3 Outlaw Super Late Model.
"Gary was a dear friend of mine and a friend to every person he came in contact with. Having the opportunity to be around his family at a race honoring him means a lot to me," said Stremme.
Stremme and Terry raced side-by-side in full-bodied stock cars for much of their careers all the way up to the All-Pro Series (NASCAR Elite Division, Southeast Series), even racing out of the same shop for a period of time. Despite going in different directions as competitors, Stremme and Terry remained close friends.
"We would catch up with him when we were in Florida and speak on the phone regularly. He was real good at explaining things to drivers; he loved his job and made sure that people got their fulfillment from their experience."
Terry, 36, was tragically killed in April 2015 at the Exotic Car Experience at Walt Disney World in Florida, where he was operations manager for the Richard Petty Driving Experience. He was riding as a passenger when the driver lost control of the vehicle. Gary Terry is survived by his wife, Kathy and their four-year-old daughter, Taylor.
Stremme's fondest memories include the mark Gary Terry left on his fellow competitors.
"He was always one of the friendliest guys at the track, he would help out anyone. I remember Gary giving up his ride to a local guy, so that guy could go and win the track championship. He was one of the most amazing people I've ever met."
Stremme currently owns and operates Lethal Chassis an Open-Wheel Dirt Modified chassis and race component business operating out of Mooresville, North Carolina. No stranger to asphalt racing, Stremme made his way up the ranks of the Midwestern short track stock car scene before competing with the All-Pro Series, ASA and ARCA Series. Stremme has competed in all of NASCAR's top-three Series driving cars for the likes of Rusty Wallace, Chip Ganassi and Roger Penske. Stremme will be making his only appearance on a paved track in 2017 to honor the memory of his friend.
The 2nd annual Gary Terry "Follow Your Dreams" 125 presented by GT Products takes place at Kalamazoo Speedway on Wednesday, June 14. Registration is currently open to all competitors; the event will offer a $5,003 winner's share and $1,003 to start the 125-lap event. For more information, visit: www.kalamazoospeedway.com.