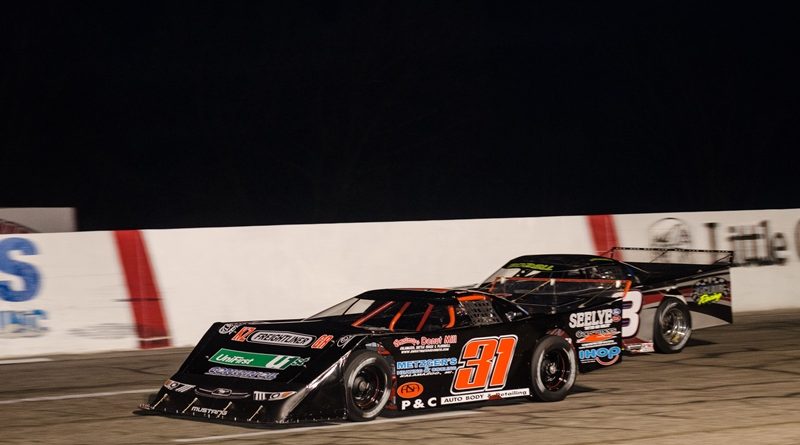 MAY MADNESS AT THE ZOO
kalamazoo
May is going to be a great month. Cinco de Mayo, Mother's Day, Memorial Day and May Madness at the Zoo. Get your brackets ready to fill out—tip off begins Friday, May 4 at 7:30 PM and concludes on May 25 with the second extended lap feature event for the Outlaw Super Late Models in a four week period. Ma Nature dealt us a wicked blow last Friday as the weather turned on us 22 laps into the GT Products Intimidator 100. We had an all-time record car count (spanning 69 years of operation) for a season opener as 146 cars spilled out of the three pit areas. With the rain shortened night we have a lot of races to make up and make them up we will. Any adult Grandstand ticket from the Season Opener (Friday, April 27) is worth $3 off any one of the next three shows (May 4, 11 or 18) making one night of double feature racing a bargain at $9! Adult tickets are $12 without the one-time discount. Kids tickets are $5 for May 4 and 18. Kids 12 and younger get in FREE on May 11.
On Friday, May 4, the Late Model Sportsman will be running their 50 lap $1,200 to win feature. The Zoo's highly competitive Street Stocks will have a double feature night to make up their portion of the rain-shortened season opener. Also on tap will be the Outlaw FWDs plus Round One of the $400 to win Zoo vs Burg Stocks.
Then on Friday, May 11, we'll start the evening by completing the remaining 78 laps of the GT Products Intimidator 100. Following the Intimidator will be a full Stock Five Night with the Outlaw Super Lates finishing up the show with their 2nd feature of the night! The Late Model Sportsman, Street Stocks, Outlaw FWDs and the Zoo Stocks will make this event one of the highlights of the season. Nearly 250 laps of feature racing, with over half of those laps belonging to the Outlaw Super Late Models. Kids 12 years old and younger get in FREE!!
On Friday, May 18, it's the Late Model Sportsman's night to run their double features to make up for the rain-shortened opener. The Outlaw Super Late Models, Street Stocks, Outlaw FWD and the Zoo Stocks round out this Stock Five night of racing.
To wrap up the Final Four of May Madness at the Zoo, Friday, May 25 will be the $2,000 to Win Lane Automotive 75 for the Outlaw Super Lates. Not to be outdone by the other weekly classes, Kalamazoo Speedway has added a double feature night for the Outlaw FWDs to conclude the jam packed month of May. Adult tickets are $15 while kids 6-12 years old are $8.