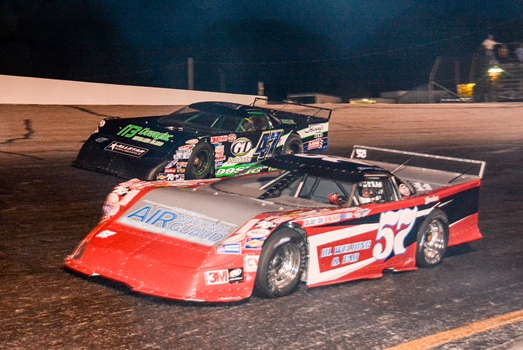 Lober Wins Thrilling Cool 101 Shootout @ the Zoo
kalamazoo
Dave Lober held off a hard charging Brandon Zachary over the closing laps to win the Cool 101 Shootout for the NASCAR Whelen All-American Series Outlaw Super Late Models Saturday night at Kalamazoo Speedway. Rick Senneker finished a solid third ahead of Jeff Bozell and Tom Rutherford. Adam Terry led the second half of the top ten over fast qualifier Mark Shook, Billy Shannon, Robbie Ferrier and Mike "Bubba" Brooks. Bozell and Simpson won the heats. Shook now has a 29 point advantage over Brooks with Bozell (-47) and Shannon (-53) still very much in championship contention also.
The Super Stocks also put on a good show with Buddy Head emerging victorious over Brandon Lyons, Chris Shannon, Rodney Smith and Bill Hartmann. Mike Williams finished sixth beating out Jack Cook, David Guarino, Jim Leonard, and Carl Burlingham. Buddy Head also set quick time while Nick Pressler and Smith won the heats. Buddy Head now leads Lyons by just 68 points with four weeks left in the season.
Matt Corliss charged through the field and won the thirty lap Pro Stock feature. Wil Raber finished an impressive second ahead of Mark Campbell, Josh Highbaugh and Barry Jenkins. Doug Smith finished sixth ahead of Tommy Hamilton, Adam Wilfong, former champion Greg Haynes and Dave Hopwood. Lloyd Brooks set quick time while Haynes and Smith collected the heat race victories.
The Mini Stocks saw Logan Knight set quick time, start dead last and win the twenty lap feature. Andrew Brest finished second ahead of former champion Frank Stager, Doug Gallandt and Ryan Stutz. JR Long led the second half of the top ten over Brian Echtinaw, Curtis Towne, Kyle Shannon and Jeff Long. Brest and Echtinaw won the two Mini Stock heat races.
Keegan Dykstra made a late race pass on fast qualifier Dan Rigoni to collect the victory in the twenty lap Outlaw Cyber Stock feature. Dale Leonard finished third ahead of Nick Layman and Bob Miller. The second half of the top ten was led by Larry Richardson over Brian Gregersen, Alysa James, Daelynn Post and Josh Roberts. Dykstra and Richardson collected the two heat race wins.
The fan favorite Flip Flop Cyber Stocks ran fifteen laps in the wrong direction with Brock Sweeter picking up the victory over David Pointon, fast qualifier Brad Hall, Jonathon Schuyler and Brooke Derrick. Joey Failing finished sixth beating out Keith Ribble, Josh Reaume, Paul VanNus and Ricky LaDuke. Cory Sobralski and LaDuke won the heat races.
This Saturday, August 8 the battle for the NASCAR Whelen All-American Series Outlaw Super Late Model championship continues with the running of the 92.5 the ZUU Showdown. Mark Shook, Mike "Bubba" Brooks, Jeff Bozell and Billy Shannon all sit within just 53 points with four weeks of point racing left to go. It will also be the last chance for drivers to tune-up for next Wednesday's 23rd annual Kalamazoo Klash Presented by Boyne Machine and Enterprise Iron & Metal. Also in action this Saturday will be the Super Stocks, Pro Stocks, Mini Stocks, Outlaw Cyber Stocks (running the $300 to win Outlaw Cyber Mania Presented by Cool 101) and Flip Flop Cyber Stocks.
Kalamazoo Speedway plays host to some of the best entertainment events in the state of Michigan, and welcomes corporate groups, family outings, suite rentals, and clean family fun. Call 269-692-2423 Monday through Friday to learn more!
For more information on Kalamazoo Speedway visit www.kalamazoospeedway.com.
Be sure to become a fan of Kalamazoo Speedway for all of the latest news and contests at: www.facebook.com/KalamazooSpeedway.
You can also follow Kalamazoo Speedway on our official Twitter page: www.twitter.com/kzoospeedway.