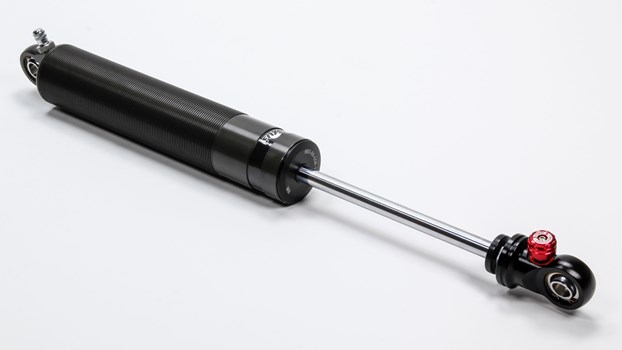 Kalamazoo Speedway's Fox Spec Shock Test Program for 2017
kalamazoo
The long-awaited shipment for the first batch of Fox Spec Shocks are finally in at Lane Automotive.
Kalamazoo Speedway has been working with Fox Shocks & Lane Automotive for well over a year on developing a high-quality spec shock that could be suitable for any top tier class of pavement racecars. The shock that is being developed by Fox is premium aluminum threaded bodied rebound adjustable shock. This shock is totally sealed & cannot be opened for re-valving or tampering. Although this shock would is comparable to more expensive shocks that range from $450 on up to $1000 per corner, this specially developed shock will be selling for $249.99 at Lane Automotive. This shock is being viewed by Fox, Lane Automotive as well as from Kalamazoo Speedway as a major cost cutting tool in the battle against the run-a-way cost of unlimited shock technology.
The engineering process of making an aluminum shock that is totally tamper resistant has been more of a manufacturing issue than once thought. After all, the only way a spec shock program could ever be accepted in this ultra-competitive market of the short track racing is for everyone to know that they have the exact same shocks that their competitors do. Fox Shocks has the engineering & the reputation in being able to develop & produce this very product!
Kalamazoo Speedway will be offering a 50 lb. weight break as well as a 2% left side weight break for teams that choose to run on these shocks. Super Lates & Super Stocks will still have better than half the season to run on this shock program if they so desired. The effective date for these weight breaks will be July 7 for the Outlaw Super Late Models and June 23 for the Super Stocks.
The end goal of trying these shocks out over the second half of the 2017 season would still be the exact same as it was when we first announced this program. The drivers trying these shocks out would be the test pilots to see how these shocks worked out and to see if the implementation of a spec shock rule in 2018 would be suitable for Kalamazoo Speedway as well as the many short tracks across the tri state area that have contacted us expressing interest in this program. We will keep you updated over the next couple months; so don't hesitate to contact us at the speedway office with any questions. We will hopefully answer any questions that you have or we will put you in contact with someone from Fox or from Lane to get you the answers that we can't help you with.
The part numbers are:
LF – FOX983-99-008-10
RF – FOX983-99-008-11
LR – FOX983-99-008-12
RR – FOX983-99-008-13
If running as a coil over shock an additional coil over kit is required. The part number is FOX803-02-047.