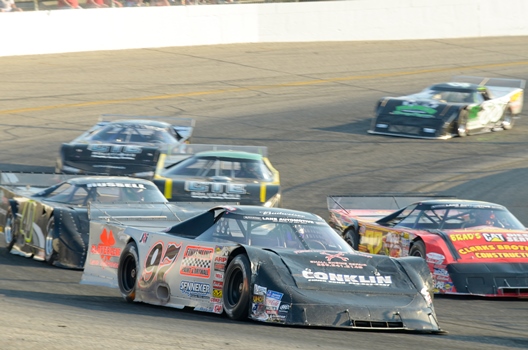 Kalamazoo Speedway WILL RACE This Friday Night!
kalamazoo
We reclaim our Speedway THIS FRIDAY NIGHT!
The doors have been replaced, the new computers are updated, and it's time to get back to do what we do… RACE!
This Friday, August 19 the 2016 Kalamazoo Speedway season continues with a full 5 in 1 show featuring the NASCAR Whelen All-American Series Outlaw Super Late Models, Super Stocks, Pro Stocks, Outlaw Cyber Stocks and Flip Flop Cyber Stocks. In addition to the jam packed racing schedule, it will also be AUTOGRAPH NIGHT, where all drivers will be signing autographs for fans from 6:30-7:15!  Finally, it is the second annual BACK PACK GIVEAWAY NIGHT.  All kids will be eligible to win back packs stuffed with goodies to help get them ready to head back to school!  Last year nearly 200 back packs were given away at the inaugural event.  The back packs will be given away first come; first serve during the autograph session at 6:30, so get there early!
Come be a part of the family this Friday.
Kalamazoo Speedway is the place to be in 2016 for fast, clean, family fun! Pick up a copy of the Kalamazoo Speedway schedule at the ticket office or look it up at www.kalamazoospeedway.com. Kalamazoo Speedway plays host to some of the best entertainment events in the State and welcomes corporate groups, family outings and suite rentals. Call 269-692-2423 Monday through Friday to learn more or visit the Kalamazoo Speedway website.
For all the latest news and contests check out www.facebook.com/KalamazooSpeedway.
You can also follow Kalamazoo Speedway at www.twitter.com/kzoospeedway.