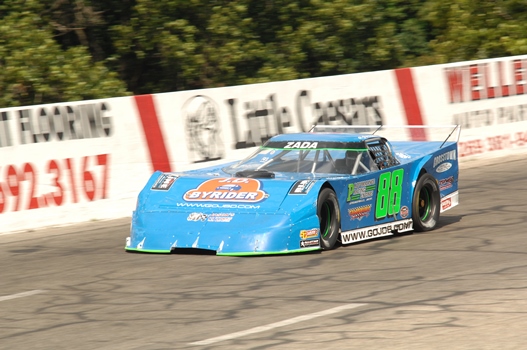 Kalamazoo Speedway Tire Policy for 2015
kalamazoo
Kalamazoo Speedways tire policy, as announced last November is very straight forward for all classes that race on a Hoosier Race Tire: There will be absolutely no chemically altering or soaking of any tire, whether it is used for practice, qualifying, a heat race or a feature event! It's not healthy for you and we don't want it on the property! No Hoosier Tires are allowed to be shaved, siped or grinded on with any type of power equipment, although cleaning off the tires with a non-motorized steel brush is fine. Defacing or altering of Hoosiers identification markings, wording, bar code or serial number will deem that tire(s) to be illegal to race on at KS.
Outlaw Super Lates & Super Stocks – Hoosier 970 – No Star 970's. All cars will start their feature event on the four tires that you qualify on. Your tires will be scanned and/or marked as you go through qualifying. There will be no impounding of your tires.
Weekly monitoring of tires will be done by KS officials with a digital durometer. This monitoring can be done at any time to any tire from any team that is participating at KS. When you sign in for your pit pass into a restricted pit area, you are deemed at that point as a participant. If you choose to follow the above "Non-Soak" rule, none of the following practices will ever affect you or your race team!
Any car that has a tire(s) whose durometer reading differentiates more than 10% of the average reading for that night, may be subject to further inspection. After such inspection, KS Officials have the right to record & confiscate that questionable tire(s). Refusal by a team to give up a tire will result in an immediate disqualification. If any points or prize money has been earned thus far for that night, all will be forfeited.
Blue Ridge Labs, located at PO Box 2940 Lenoir, NC 28645, will be the laboratory responsible for conducting a test on any tire samples that KS officials deem to send in for further inspection. Their written decision will be the final decision and there will be no re-submitting of the tire samples to any other lab. The tire sample testing goes as follows: a 3" square tire sample from the center of the tread will be taken by the team who tire(s) is in question, using the teams own utility knife. A team member will place the tire sample into the testing container supplied to KS from BRL. The team member will then place the container into BRL evidence bag; seal it and sign & date it. KS will send the bag to BRL on Monday AM, who will confirm upon receipt that the sample was received with the seal intact.
If at any time a team has a tire that is going to be sent in to be tested for chemical altering after a feature event, that teams points & prize money will be frozen until an answer is received from BRL. The written analysis concerning a tested tire from BLR will be made public and will be posted on the KS website.  If the teams tire is found to be clean, that driver will receive all frozen points, pay and one new tire for each tire that a sample was sent in for. If the teams tire is found to check positive for chemical altering, the following with then happen: All frozen prize money & points will not be awarded. The driver will be suspended for the next 5 races that his class is scheduled to race in. The driver will also pay a $500 fine to KS before the driver will be allowed to participate at KS.
If a driver is DQ'd for tire tampering after a feature, all cars that finished behind the DQ'd car in that event will remain with the same points & money they had earned for the spot they finished; we will not be re-shuffling the entire fields points or money one spot. Remember, NO SOAKING OF ANY KIND and all of the above rules are for naught!