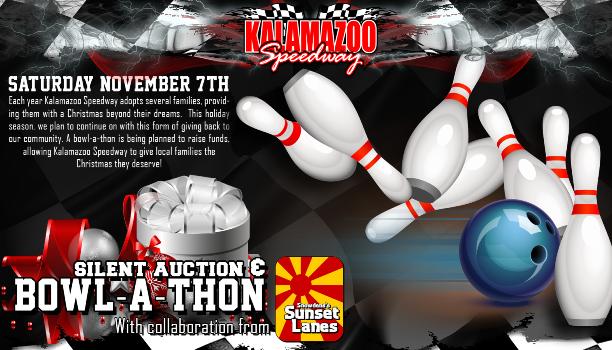 Kalamazoo Speedway Presents a Bowl-A-Thon With Collaboration From Snowden's Sunset Lanes
kalamazoo
Each year Kalamazoo Speedway adopts several families, providing them with a Christmas beyond their dreams.  This holiday season, we plan to continue on with this form of giving back to our community. A bowl-a-thon is being planned to raise funds, allowing Kalamazoo Speedway to give local families the Christmas they deserve!
Please join us Saturday November 7th at Snowden's Sunset Lanes in Allegan. Bowling will begin at 3pm. We are requesting teams of four be put together to compete in the bowl-a-thon.  The cost is $100 per team, which will include the cost of the three games and shoe rental.  To reserve a spot for your team, contact the speedway office at (269) 692-2423, or email Sarah Porter at sarahporter23@yahoo.com. 
If bowling isn't for you, still plan on coming! We will be hosting a silent auction as well as a 50/50 raffle. Snowden's Sunset Lanes has a restaurant and bar (beer and wine only) where we can just hang out with other racers for a final time in 2015. 
Special thanks to Gary and Donna Howe as they will be giving away a free sky box for one night in the 2016 race season.  The teams will all be entered into a drawing, one team will be randomly selected to win the sky box.  
Below is a preview of already donated items to the auction:
Autographed Kyle Busch Hats (2)
Breast cancer awareness gift bag from Kyle and Samantha Busch (Includes a Kyle Busch autographed hat along with a few other items)
Autographed Richard Petty Hat
Multiple restaurant gift cards valued from $20-$40 each
Five passes to Sky Zone
Two passes to Jungle Joe's
$150 to Henderson Castle
Alamo Draft House has donated two movie tickets and $10 voucher for their concession stand.
Two hair cuts at a 30 minute massage to Identities Salon
A pedicure and gift basket from Eve Salon and Spa
A pedicure from Escape Nails Salon
There will be more to come. We hope you will join us!!