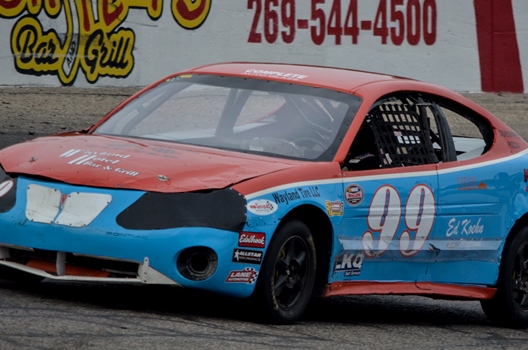 Kalamazoo Speedway Announces "Rent-a-Ride at the Zoo" Program
kalamazoo
How would you like to fulfill a longtime dream……..possibly knock something off your bucket list…….or maybe even test drive a race car to see if you have what it takes to be the next Jeff Gordon? Well Kalamazoo Speedway is excited to announce their all new Rent-a Ride at the Zoo Program for 2015.
If you have ever wondered what a Saturday race day for our weekly drivers at Kalamazoo Speedway is all about, you now will be able to say to your friends & family "Hey, I did that"!   We are going to have a fleet of race ready Flip Flop Cyber Stocks that will be available to rent for a regular Saturday Night Full House show. You could be racing with our weekly racers in front of a several thousand spectators, not just out on an empty track with another car or two. You will hot lap your car, qualify your car and then you will race in your heat race and in your feature event.   We will furnish the crew chief for Rent-a-Ride cars but you will need to bring along your pit crew to help you prepare for your race day! We will also be supplying all of your safety equipment, including your fire suit, racing gloves, helmet and Raceceiver. We can also set up a practice session on a week night before your big racing debut so that we can get you properly fitted for your car, go over all racing & safety procedures and get you out on the track so you are ready to race on Saturday!!
All Rent-a-Ride programs will need to be booked two weeks minimum in advance, so that you & we both have adequate time to prepare you and your car for race day. The cost for your race day Rent-a-Ride program is $185 and that price includes the drivers pit pass. You will also receive an 8×10 picture of you & your car in Victory Lane. Additional pit passes are $30 and we will have special pricing for general admission tickets for all of your friends, co-workers & family that come out to cheer you on (discounted prices for groups of 10 tickets or more).   Call or e-mail the office now to book your Rent-a-Ride at the Zoo, with the first race date being May 2nd.  (269-692-2423 or gary@kalamazoospeedway.com )
You could be the next the Super Star at Kalamazoo Speedway……..what are you waiting for??