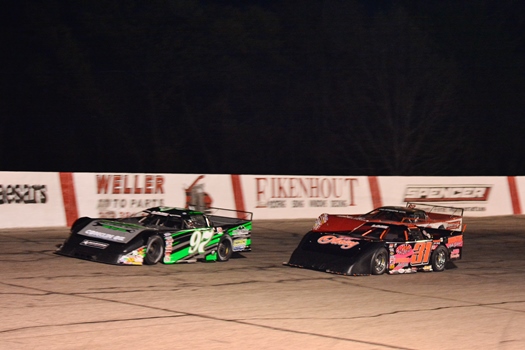 Kalamazoo Speedway Announces Dates for 2018 Outlaw Super Late Model Marquee Events
kalamazoo
The 2018 Monster Energy NASCAR Cup schedule is out and Kalamazoo Speedway is announcing dates for two of its premier Outlaw Super Late Model events for the 2018 season. In 2017 both of these events are part of an Outlaw Super Late Model touring series of top events at 5 Midwest tracks boasting a $20,000 point fund sponsored by Sweet Manufacturing.
Wednesday, June 6, 2018 will be the third annual Gary Terry "Follow Your Dreams" 125. Tyler Roahrig, who won just about every big Outlaw Super Late Model race in 2016, won the inaugural Gary Terry "Follow Your Dreams: 125. "I don't even know what to say. I feel so honored to win this race," Roahrig said in victory lane. "The field of cars here, I couldn't think of a better field. It's the first time I've ever beat the 37 (Terry Senneker) here, just doing that is a feat itself. I'm so thankful for Gary. The entire Terry family I've known them ever since I can remember. I'm so proud to do this for them, they've been friends with me and my family. I've never met someone they weren't friends with. I'm so proud to win this right now." The sophomore running of the Gary Terry "Follow Your Dreams" 125 will take place Wednesday, June 14, 2017.
In addition to the June event, 2018 will mark the 26th consecutive running of the Kalamazoo Klash and has been scheduled for Wednesday, August 8, 2018. The Klash has become known as the number one Outlaw Super Late Model event in the country. For the silver anniversary of the Klash on August 9, 2017, Kyle Busch, the 2015 Monster Energy NASCAR Cup Series champion will compete in both the Outlaw Super Late Model and ARCA/CRA Super Series races. Busch won the ARCA/CRA Super Series race at Kalamazoo Speedway in 2014 and has set his sights on winning both races in 2017.
"Kalamazoo Speedway continues to support Outlaw Super Late Model racing", track owner/promoter Gary Howe said. "While many other specials have fallen by the wayside we have committed to put on not just one, but two of the premier Outlaw Super Late Model races in the country each season. To be able to host two special races like this annually is a testament to our wonderful fans and competitors who have supported these events."