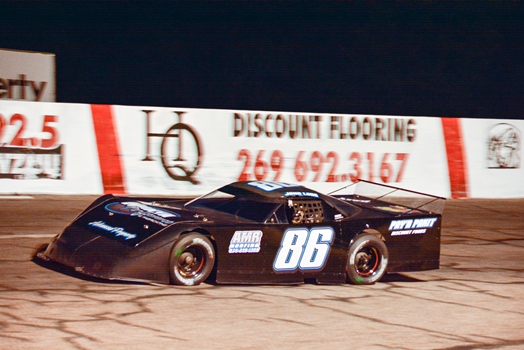 John Long Wins Hoosier 50 @ the Zoo
kalamazoo
John Long made an impressive run through the field and then held off two-time defending champion Mike "Bubba" Brooks on a late race double-file restart to collect the victory in the Hoosier 50 for the NASCAR Whelen All-American Series Outlaw Super Late Models Saturday night at Kalamazoo Speedway. Brooks held on to finish second ahead of Mark Shook, Billy Shannon and fast qualifier Jeff Bozell. Dave Lober led the second half of the top ten over Matt Frazier, Tom Rutherford, Rick Senneker and Jeff Carper. Brandon Zachary and Travis Hall collected the heat race victories.
Matt Corliss continued his incredible season with a victory in the thirty lap Pro Stock feature. Corliss held off Chaz Hook, Brent Hook, fast qualifier Greg Haynes and Greg Brown for the victory. Young Wil Raber finished a solid sixth ahead of veteran Jerry Zachary, Barry Jenkins, Doug Smith and Dave Hopwood. Chaz Hook and Smith won the heat races.
Dan Rigoni started the night by having to borrow a car to qualify and ended the night in victory lane in the Outlaw Cyber Stock division. Rigoni got his car fixed for the feature and had to start dead last. He then methodically worked his way through traffic and picked up the win in the fifteen lap feature. Scott Custer finished second beating out Nick Layman, Jeremy Young and Dale Leonard. Bob Miller finished sixth ahead of Larry Richardson, Daelynn Post, Alysa James and Josh Roberts. Keegan Dykstra set quick time while Roberts and Richardson won the heats.
In the Flip Flop Cyber Stock division Brad Hall emerged victorious in the fifteen lap feature over fast qualifier Brock Sweeter, Jonathon Schulyer, Keith Ribble and Danny Payne. Pete Doxey started last and worked his way all the way up to sixth beating out Timmy Saline, Joey Failing, Todd Townbridge and Josh VanDusen. Sweeter and Saline picked up the heat victories.
A great field of twenty-five Auto Value Bumper to Bumper Super Sprints ran a thirty lap feature with Cody Gillogly coming out on top over fast qualifier Aaron Pierce, Derek Snyder, Jason Blonde and Ryan Gillenwater. Jimmy McCune led the second half of the top ten over Geoff Kaiser, Kevin Feeney, David Byrne and Brad Wyatt. John Turnball, Ike Beasley and Byrne won the heat races.
This Saturday night, August 1 will see all six weekly divisions return to the Zoo. The Cool 101 Shootout for the NASCAR Whelen All-American Series Outlaw Super Late Models will be the featured event. The Super Stocks will run the Allstar Performance Showdown as well. The Pro Stocks, Mini Stocks, Outlaw Cyber Stocks and Flip Flop Cyber Stocks will complete the program.
Kalamazoo Speedway plays host to some of the best entertainment events in the state of Michigan, and welcomes corporate groups, family outings, suite rentals, and clean family fun. Call 269-692-2423 Monday through Friday to learn more!
For more information on Kalamazoo Speedway visit www.kalamazoospeedway.com.
Be sure to become a fan of Kalamazoo Speedway for all of the latest news and contests at: www.facebook.com/KalamazooSpeedway.
You can also follow Kalamazoo Speedway on our official Twitter page: www.twitter.com/kzoospeedway.