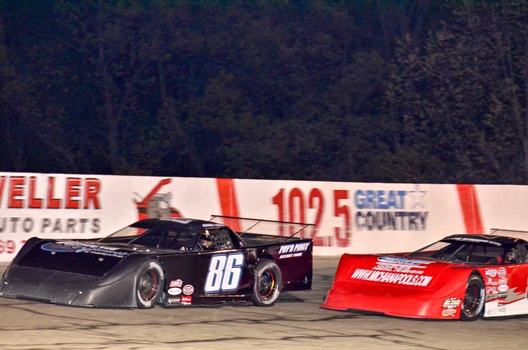 John Long Becomes Third Winner in Three Races @ the Zoo
kalamazoo
John Long made his first visit to Kalamazoo Speedway this year worth the trip as he collected the victory in the fifty lap NASCAR Whelen All-American Series Outlaw Super Late Model feature Friday night.  Long held off veteran Doug True to collect the victory.  Mark Shook finished a solid third ahead of Billy Shannon and fast qualifier Rick Senneker.  Three-time defending champion Mike "Bubba" Brooks finished sixth beating out Tom Thomas, Jeff Bozell, rookie Chris Garrett and Adam Terry.  Notable finishers included Matt Frazier, who was involved in a crash and finished 13th.  TK Whitman and True picked up the heat race victories.  Senneker's point lead now stands at 68 points over Shook with Terry (-78), Shannon (-82) and Frazier (-87) rounding out the top five.
Defending Super Stock champion Buddy Head set quick time, started deep in the field and worked his way all the way to the front to make his first trip to victory lane this season, as he held off Ron Maynard Jr. for the victory.  Veteran Tom Wright, Cory Pressler and Gary Denzel rounded out the top five.  Four-time track champion Kenny Head led the second half of the top ten over Mike Williams, 2015 Outlaw Cyber Stock champion Keegan Dykstra, Jordan Hunderman and Chris Shannon.  Point leader Brandon Lyons was involved in a scary accident and finished a disappointing 15th.  Lyons and Carl Burlingham won the heat races.  Buddy Head now leads the standings over Lyons (-39), Kenny Head (-64), Cory Pressler (-65) and Nick Pressler (-98).
A great field of Pro Stocks invaded the Zoo and saw arguably the most impressive driving display of the night as Greg Brown set quick time and drove from deep in the field to pick up the victory in the thirty lap feature.  Defending champion Matt Corliss finished second ahead of two-time track champion Mike Zordan, Keith Wilfong and Jeff Wolfersberger.  Kyle Ribble finished sixth beating out two-time track champion Ben Raber, Toby Montgomery, Danny Oxford and Mark Fliearman.  Notable finishers included Barry Jenkins, who finished 13th.  Brown also won his heat, making it a perfect 160 point event for him.  The other two heats were won by Wolfersberger and Brad Hall.  Josh Roberts won the last chance race. Corliss still leads the points but his lead is now just 37 markers over Brown with Wilfong (-50), Montgomery (-103) and Jenkins (-113) also in striking distance.
Dan Rigoni continued his impressive 2016 season as he set quick time and started dead last in the Outlaw Cyber Stock division before racing through the entire field and picking up the win.  Rick LaDuke was the runner-up ahead of Doug Nelson, Brian Gregersen and Danny Rigoni.  2015 Flip Flop Cyber Stock champion Brock Sweeter finished sixth beating out Ryan Hufford, Dennis Letts, Larry Richardson and Nick Layman.  Sweeter and LaDuke picked up the heat race victories.  With another impressive performance Dan Rigoni continues to lead the points over Gregersen (-64), Nelson (-104), Sweeter (-111) and Hufford (-125).
The Flip Flop Cyber Stock division saw its third winner in as many races as Joey Failing picked up the victory.  Tony Lobretto finished second ahead of Keith Ribble, fast qualifier Travis Reniger and Danny Payne.  Opening night winner Valerie Bozell finished sixth beating out Harvey Bender, Brandon French, Kyra Donald and Glen Wheaton.  Point leader Lane Head was involved in a late race spin and finished 11th.  Failing and Payne won the heat races.  Reniger now leads a tight battle atop the points over Lobretto (-13), Lane Head (-26), Valerie Bozell (-32) and Failing (-36).
This Friday night Kalamazoo Speedway opens up Memorial Day weekend with a big 6 in 1 show featuring the Lane 75 for the NASCAR Whelen All-American Series Outlaw Super Late Models.  Through three races the division has seen three different winners and with the Gary Terry "Follow Your Dreams" 125 just a couple weeks ago several heavy hitters are expected to "tune-up" this Friday night.  The Super Stocks and Pro Stocks are expected to continue putting on great races as well with Buddy Head and Greg Brown looking to carry momentum over to this week.  Friday will also see the return of the Southwest Michigan Mini Stock Challenge Series for the first time since opening night.  The Outlaw Cyber Stocks and Flip Flop Cyber Stocks will also be in action.  Also at 7:00 down on the front stretch will be the first kids bicycle and big wheel races of the season.  Also, NHRA Top Fuel Dragster driver Terry McMillen will be signing autographs, mingling with the fans and possibly even driving a Flip Flop Cyber Stock!  Finally, the night will conclude with the first fireworks display of 2016!
Kalamazoo Speedway will be the place to be in 2016 for fast, clean, family fun! The full 2016 Kalamazoo Speedway Schedule can be viewed at www.kalamazoospeedway.com. Kalamazoo Speedway plays host to some of the best entertainment events in the State and welcomes corporate groups, family outings and suite rentals. Call 269-692-2423 Monday through Friday to learn more or visit the Kalamazoo Speedway website.
For all the latest news and contests check out www.facebook.com/KalamazooSpeedway.
You can also follow Kalamazoo Speedway at www.twitter.com/kzoospeedway.