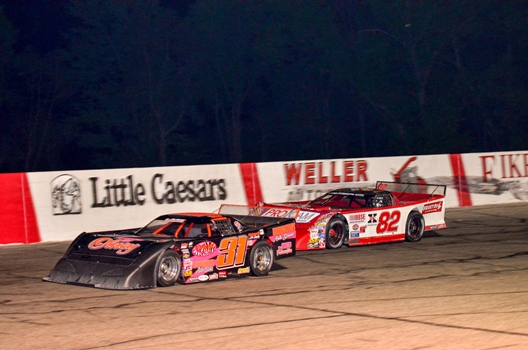 Harrington Wins Thrilling Late Model Feature @ Kalamazoo
kalamazoo
After a week off from our regular race program, July 7th's Motorcycle and Scooter Night had a healthy car count of 89 cars. In the Outlaw Super Late Model division, Rick Senneker scored quick time. Kenny Head found fast time in the Super Stocks. Pro Stock fast time went to Barry Jenkins. In the Outlaw Cyber Stocks and Flip Flop Cyber Stocks Paul Bittle and Cameron Barthel qualified with quick time. Kalamazoo Speedway had 18 Outlaw Super Late Models on the property. Heat race wins went to Jeff Bozell and Billy Shannon. There were two Super Stock heat races, with a total of 16 cars. Heat race winners were Kenny Head and Josh Trammel. In the Pro Stocks, the heat wins went to Greg Haynes and Brad Hall; they had 21 cars. The Outlaw Cyber Stocks had 11 cars with one heat race win being picked up by Nick Layman. The Flip Flop Cyber Stocks had the highest car count with 23. Heat race wins went to Nick Failing and Rent-A-Ride driver Jerry Ballard.
The Flip Flop Cyber Stocks put on a thrilling feature full of passing and wrecking! Rent-A-Ride driver, Jerry Ballard had the early lead. It didn't last for long before Tony LoBretto came from 15th starting spot for the lead. LoBretto's lead was soon overtaken by Valerie Bozell who went on to win the race from 21st starting position. Second through fifth finished as follows: Tony LoBretto, Nick Failing, Denver Sweat and Juliet Sweeter.
The Outlaw Cyber Stocks had a green to checkered feature, completing it in just four minutes! Paul Bittle charged from last to first place to find victory lane again this week. He was followed by Corey Woods who started 10th. Rounding out the top five were Pete Doxey, Nick Layman and Ricky LaDuke.
The Pro Stocks rolled off with 20 cars to start their feature. The first caution came out with 11 laps to go for fluid on the race track. Before the first caution, the race saw four different lead changes and side by side battles from first on back. Kyle Ribble started ninth, and made his way to the front to take home the win. He was followed by Greg Haynes and Bob Miller who battled side by side for 2nd and 3rd place. Fourth and fifth place finishing positions went to Zack Cook and Keith Wilfong.
Buddy Head finally found victory lane in the 2017 season. The Super Stocks put on an action packed race. Josh Trammel led the first handful of laps from the outside pole starting position. Lap 10 saw three wide for second place, leading to a caution with two cars spinning. Josh Trammel's lead was soon over taken by Eric McGlothlen who led for two short laps until Buddy Head took the lead and went on to win. McGlothlen finished second followed by young gun Keegan Dykstra, Kenny Head and AJ Foote.
The Outlaw Late Models rolled off for their 40 lap feature and began racing the weather as rain was on the way. Adam Terry jumped out to an early lead before getting loose and falling back several positions giving the lead to Matt Frazier. Todd Harrington got the lead briefly before Frazier took back over. Rick Senneker was able to jump out to the lead on lap 19 after a double file restart. He held the lead until pulling into the pits dropping a trail of oil with six laps to go. This gave the lead to Todd Harrington; he went on to win the feature. Second place went to Mark Shook followed by Doug True in third. Fourth and fifth place finishers were Adam Terry and Tom Thomas.
Join us next week July 14th for our regular racing program which consists of five different divisions of racing, competing in five different feature events. Also next week is classic car week. Come check out the racing action with a complementary car show! Racing starts at 7:30pm sharp. Check out the speedway website for more details www.kalamazoospeedway.com.