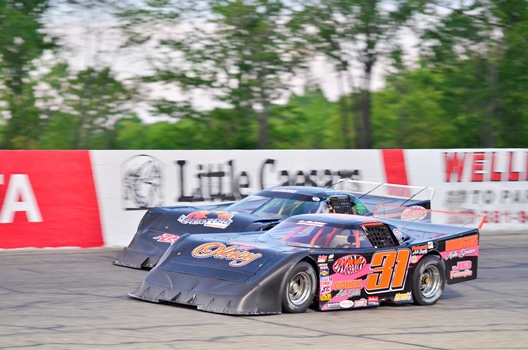 Harrington Becomes First Repeat Winner @ the Zoo in 2017
kalamazoo
It took five races but someone finally won two NASCAR Whelen All-American Series Outlaw Super Late Model events at Kalamazoo Speedway in 2017. Veteran Todd Harrington drove around three-time champion Mike "Bubba" Brooks and held on to win his second feature of the season Friday night, besting a field of 23 cars. Brooks held on to finish second ahead of 12-time champion Andy Bozell, fast qualifier Mark Shook and Adam Terry. Rick Senneker led the second half of the top ten over Dustin Lundgren, Matt Frazier, Doug True and 2011 champion Phil Bozell, who started last. Notable finishers included Tom Thomas, who finished 12th. Brandon Lyons and Vern Sauer won the heat races. Shook's point lead is now 41 markers over Harrington with Thomas (-65), Terry (-116) and Senneker (-141) rounding out the top five.
Cory Pressler made an impressive late race pass on five-time champion Buddy Head and held him off the rest of the way to win the 30 lap Super Stock feature. Eric McGlothlen finished third ahead of Nick Pressler and Adam VanAvery. Fast qualifier AJ Foote wound up sixth beating out 2015 Outlaw Cyber Stock champion Keegan Dykstra, Rodney Smith, Ryan Minton and Josh Trammell. Notable finishers included four-time track champion Kenny Head, who finished 17th. Buddy Head and Smith won the heat races. Buddy now leads the standings by 53 points over Nick Pressler with Dykstra (-69), Cory Pressler (-73), Foote (-86), McGlothlen (-90), Kenny Head (-93) and VanAvery (-117) also within striking distance.
Keith Wilfong held off three-time track champion Matt Corliss over the closing laps to pick up the win in the Pro Stock main event. Fast qualifier Zack Cook finished third ahead of Greg Brown and Barry Jenkins. Three-time champion Greg Haynes finished a solid sixth while Brandon Zachary, Tim Craig, Bobby Oxford and Zach Westdorp rounded out the top ten. Notable finishers included Josh Zordan (12th), Bob Miller (19th) and Kyle Ribble (20th). Heat wins went to Wilfong and Josh Roberts. Cook now leads an ultra-tight point battle by just 15 over Brown with Wilfong (-18), Ribble (-77) and Jenkins (-80) rounding out the top five.
Paul Bittle set fast time, started dead last, passed every car and held on to win the 20 lap Outlaw Cyber Stock feature. Robert Pierce finished second ahead of Wayne Stack, Nick Layman and Jeremy Young. Larry Richardson led the second half of the top ten over Christian Wynbelt, Andrew Losey, Pete Doxey and Ryan Hufford. Notable finishers included Doug Nelson (11th), Sean Elkins (17th) and Ricky LaDuke (18th). Stack and Nelson won the heat races. Richardson's point lead is now 48 over Young with Layman (-65), Elkins (-105), Hufford (-108) and Nelson (-129) all within striking distance.
Much like Bittle in the Outlaw Cybers, Valerie Bozell set quick time; started dead last, passed every car and won the 15 lap Flip Flop Cyber Stock feature. Grant Lofquist was the runner-up beating out Nick Failing, Tony LoBretto and Bert Brown. Scott Hampton finished sixth ahead of Brandon Sweat, Randy Glick, Travis Petto and Kyra Donald. Notable finishers included Renae Letts (13th), Denver Sweat (18th) and Kevin Sweat (19th). Lofquist and Petto won the heats. With the victory Valerie Bozell now leads the points over Nick Failing (-8), LoBretto (-12), Lofquist (-44), Brandon Sweat (-117), Kevin Sweat (-118), Denver Sweat (-134) and Joe Failing (-145).
One of the biggest events on the schedule takes place this WEDNESDAY, June 14 with the second running of the Gary Terry "Follow Your Dreams" 125 Presented by GT Products. The best Outlaw Super Late Model drivers on the planet will go 125 laps for $5,003 to win and $1,003 to start! Tyler Roahrig looks to repeat after his victory in last year's inaugural event but several other drivers will be looking to keep him out of victory lane. In addition to the Late Models, the Pro Stocks will be going 50 laps in the Allstar Performance Pro Stock/Street Stock Rumble. Racing begins at 7:00 and the rain date is Thursday, June 15.
Kalamazoo Speedway is the place to be in 2017 for fast, clean, family fun! Kalamazoo Speedway plays host to some of the best entertainment events in the state and welcomes corporate groups, family outings and suite rentals. Call 269-692-2423 Monday through Friday to learn more or visit the Kalamazoo Speedway website.
For all the latest news and contests check out www.facebook.com/KalamazooSpeedway.
You can also follow Kalamazoo Speedway at www.twitter.com/kzoospeedway.