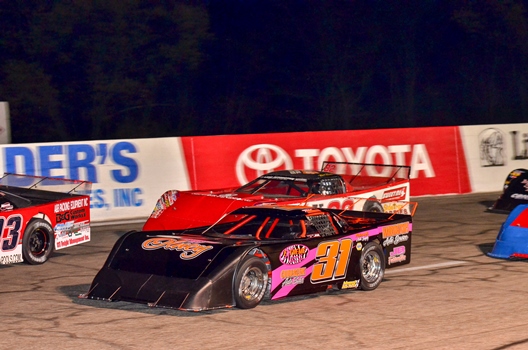 Harrington Beats Frazier in Thriller to Become Third Different Winner in Three Races
kalamazoo
Veteran driver Todd Harrington made a thrilling late race pass on Matt Frazier to take the lead and hold on to win the NASCAR Whelen All-American Series Outlaw Super Late Model feature Friday night at Kalamazoo Speedway. Harrington joined Tyler Roahrig and Adam Terry as feature winners this season, making three different winners over the first three events. Frazier held on to finish second ahead of Tom Thomas, fast qualifier Mark Shook and Doug True. The second half of the top ten was led by Chris Garrett over Terry, 1995 Super Stock champion Billy Shannon, Rick Senneker and Tyler Heeney. Frazier and Ronnie Maynard picked up the heat race victories. Defending champion Shook continues to lead the points but only by 11 over Frazier with Thomas (-17), Harrington (-20) and Terry (-29) all close behind.
In what arguably could be considered one of the best races in recent memory at the track AJ Foote put on a brilliant driving display which included a three-wide pass for the lead to win the 30 lap Super Stock feature. Foote beat five-time champion Buddy Head, Nick Pressler, Josh Trammell and Adam VanAvery. Fast qualifier Kenny Head finished sixth beating out Cory Pressler, 2015 Outlaw Cyber Stock champion Keegan Dykstra, Eric McGlothlen and Ron Maynard. David Guarino and Maynard won the heat races. Despite being shut out of victory lane through three events Buddy Head does lead the point standings by 27 over Nick Pressler with Kenny Head (-36), Dykstra (-50) and Foote (-74) rounding out the top five.
The Pro Stock class continued to put on excellent racing and this week it was Zack Cook who wheeled his number 43 machine into victory lane. Cook held off veteran Brent Hook, Kyle Ribble, Barry Jenkins and fast qualifier Greg Haynes to pick up his first victory of the season. Brandon Zachary continued to impress in his new Pro Stock by collecting a sixth place finish ahead of Shane Miller, Josh Zordan, Jerry Pierman and Greg Brown. Notable finishers included Keith Wilfong, who entered the night as the point leader but finished a disappointing 14th, as well as Bob Miller who brought home a 19th place finish. Chaz Hook and John Chapman collected the heat race victories. With the win Cook now finds himself atop the point standings by just six markers over Ribble with Brown (-12), Wilfong (-19) and Jenkins (-72) completing the top five.
The Outlaw Cyber Stock division saw Larry Richardson set quick time in qualifying, start dead last in the 14 car field, charge all the way to the front and collect the victory in the 20 lap feature. Richardson beat out Cole Roelofs, Jeremy Young, Sean Elkins and Nick Layman, who rounded out the top five. The second half of the top ten was led by Doug Nelson over Taylor Sexton, Case Roelofs, Robert Siegel and Andrew Losey. Notable finishers included Justin Hardy, who finished 14th. Elkins and Nelson picked up the two heat race checkered flags. Richardson continues to lead the point standings over Layman (-43), Elkins (-49), Young (-52) and Ryan Hufford (-88).
For the first time in 2017 the Flip Flop Cyber Stocks ran their 15 lap feature in the "wrong" direction, much to the fans enjoyment. The 23 car field put on a good show, with the feature taking less than 11 minutes to complete. When the checkered flag fell Josh Nyberg was the first to see it as he picked up his first win of the season over Tony LoBretto, Robert Brown, Kevin Sweat and Grant Lofquist. 2015 champion Brock Sweeter finished a solid sixth beating out Zach Weinberg, Joe Failing, Brian Graber and Brandon Sweat. Notable finishers included Nick Failing, who finished 11th and fast qualifier Valerie Bozell, who finished 17th. LoBretto and Burt Brown won the heat races. In an ultra-tight point battle LoBretto emerged from the night as the lead by a single point over Joe Failing. Bozell (-8), Nick Failing (-8) and Lofquist (-38) round out the top five.
This Friday, May 19 Kalamazoo Speedway will play host to another 5 in 1 NASCAR racing program featuring the NASCAR Whelen All-American Series Outlaw Super Late Models. The Super Stocks, Pro Stocks, Outlaw Cyber Stocks and Flip Flop Cyber Stocks will also be back in action. It will also be Autograph Night, as all fans will have the opportunity to go into the pits and get autographs from their favorite drivers before the racing action begins at 7:30. Kalamazoo Speedway will also be giving away several scooters to our younger fans in preparation for next Friday's (May 26) scooter races. Finally it will be the third "Student Night" of the year where all students K-12 will be admitted for FREE!! High school students will need to show their ID to be granted FREE admission.
Kalamazoo Speedway is the place to be in 2017 for fast, clean, family fun! Kalamazoo Speedway plays host to some of the best entertainment events in the state and welcomes corporate groups, family outings and suite rentals. Call 269-692-2423 Monday through Friday to learn more or visit the Kalamazoo Speedway website.
For all the latest news and contests check out www.facebook.com/KalamazooSpeedway.
You can also follow Kalamazoo Speedway at www.twitter.com/kzoospeedway.