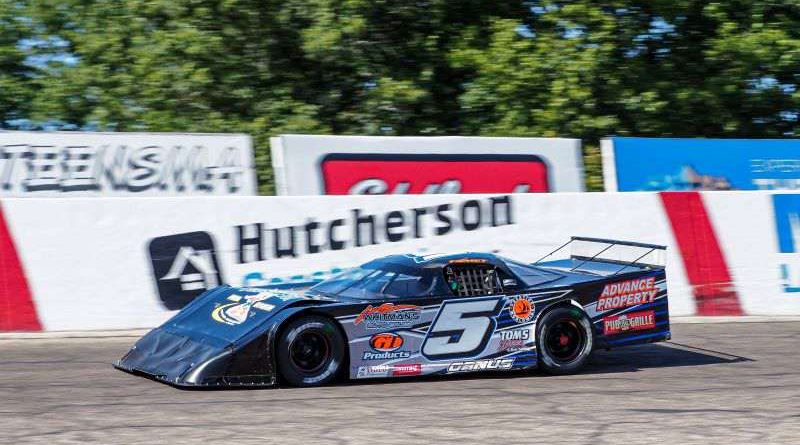 Ganus Wins "Hoosier 100" as Terry Collects First Track Championship
kalamazoo
Jeff Ganus drove from 11th starting position to the front and held on to win the "Hoosier 100" for the Outlaw Super Late Models on Season Championship night at Kalamazoo Speedway. Veteran JR Roahrig finished as the runner-up beating out two-time champion Mark Shook, who came home third. Adam Terry, who entered the night second in points, fought through an incredible amount of adversity but was able to finish fourth, which secured him his first Kalamazoo Speedway Outlaw Super Late Model championship. 1995 Late Model Sportsman champion Billy Shannon finished 5th beating out Rick Senneker, 2017 Street Stock champion Zack Cook, Rich Boal, Bill Tomlinson and Kevin Stewart. Notable finishers included Doug True (13th), defending champion Todd Harrington (14th), Andrew Brest (20th), Matt Frazier (21st) and Craig Everage (23rd). Former Kalamazoo Klash winner Steve Needles was the fastest qualifier.
The Late Model Sportsman feature saw Chris Garrett pick up his fourth victory of the season. Fast qualifier Andy Bozell finished second ahead of four-time track champion Brandon Lyons, Jeff Bozell and now eight-time champion Buddy Head. 2015 Outlaw FWD champion Keegan Dykstra led the second half of the top ten over Jesse VanAvery, Josh Zordan, Dylan Stovall and four-time track champion Kenny Head.
2017 champion Zack Cook picked up the victory in the thirty lap Street Stock feature. Josh Zordan finished a solid second ahead of Jon Beach, fast qualifier Shane Miller and Brandon Zachary, who clinched his first Kalamazoo Speedway track title. 2018 Zoo Stock champion Colin Bozell finished sixth beating out defending champion Greg Brown, Zach Westdorp, Ricky LaDuke and two-time Late Model Sportsman champion Mike Zordan.
The Outlaw FWD class had two features on the schedule, as their feature last week was rained out. In the first feature Pete Doxey drove from dead last to victory lane beating out Drew Losey, Nick Layman, Wayne Stack and Corey Woods. John Munro finished sixth ahead of Nick Failing, Valerie Bozell, Camille Lewis and John Carr. Adam VanAvery, who entered the night as the point leader, finished a disappointing 11th.
In the second feature Todd Metz Jr. drove to victory over Doxey, Woods, VanAvery and Layman. Carr came home sixth ahead of Failing, Valerie Bozell, Munro and Will Slaughter. When the final points were tallied it was Doxey claiming the title by just 11 points.
The Zoo Stock feature saw Logan Meade emerge victorious over Jared Blanchard, Grant Lofquist, Jorden Brinkert and Rielly Meade. The fifth-place finish was enough to secure Rielly Meade his first track championship. Bryce Peters led the second half of the top ten over Ross Bergman, Kenny Head II, Logan Hiemstra and Mason May. Matt Majewski was the fastest qualifier while Kyle Shannon won the 'B' Feature.
Next SATURDAY, August 31 action continues with the 13th annual "Call of the Wild". The event will feature the "Raceceiver Qualifying Showdown" where the fastest five cars from group qualifying will have thirty minutes to try and run the fastest lap possible. The fastest car in the Showdown will receive a $500 bonus (and an additional $1,000 should they break the world record) with the other four contenders collecting $400, $300, $200 and $100 respectively. For more information log onto www.kalamazoospeedway.com.