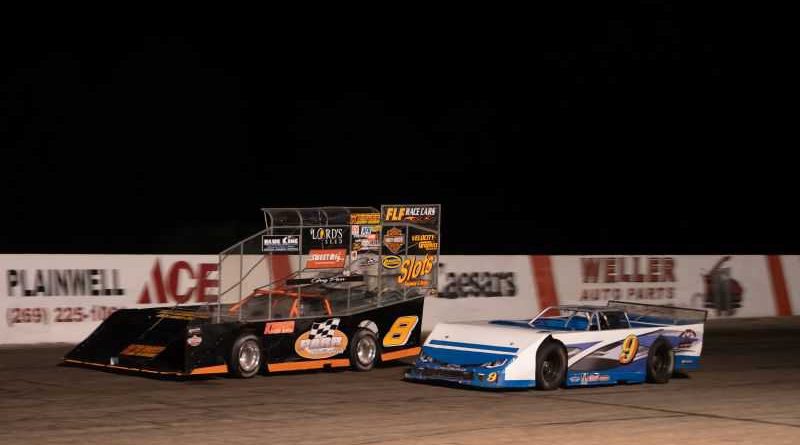 Ganus Wins Call of the Wild @ the Zoo
kalamazoo
One week removed from his victory in the "Hoosier 100" Jeff Ganus drove to victory in the annual Call of the Wild event Saturday night at Kalamazoo Speedway. Andrew Brest ran a solid second ahead of Brandon Ross, Mike Schewchuk and four-time track champion Mike "Bubba" Brooks. Alan Marcott led the second half of the top ten over Rick McMullen, Louis Miller, David Elliott and Ryan Dick. Ganus also set quick time and won the "Raceceiver Qualifying Showdown" earlier in the evening. Matt Sullivan won the 'B' feature.
Nick Failing emerged victorious in the Outlaw FWD feature over Travis Loop, John Gonzales, Jeff Dufley and Tyler McGhan. Logan Meade finished sixth beating out 2019 Zoo Stock champion Rielly Meade, Billy Edwards, Jim Hunderman and Drew Hosner. Loop was also the fastest qualifier with a lap of 16.086 seconds.
The Midwest Compact Touring Series was on hand and saw Todd Metz in victory lane at the conclusion of their forty-lap feature. Dan Irvine was the runner-up beating out Brandon Delacy, Greg Blount and 2019 Outlaw FWD champion Pete Doxey. Drew Losey finished sixth ahead of George Seliger, Wayne Stack, John Handeland and Paul Bittle. Jason Essex was the fastest qualifier while Mike Long won the 'B' feature.
After a week off Kalamazoo Speedway return to action on SATURDAY, September 14 with the fan favorite Night of Destruction. This year's event will feature monster trucks, a jet car meltdown, the new Zoo Double Decker Cars, bus and trailer races, new stunts by scarecrow and more. The night will conclude with the famous Kalamazoo Speedway fireworks!