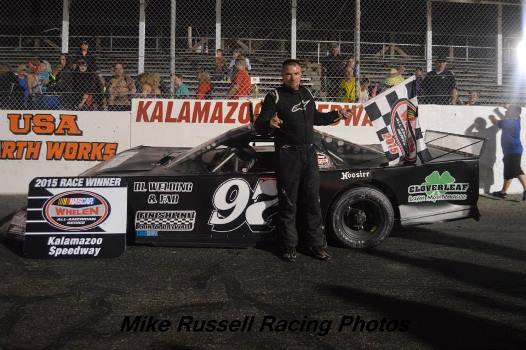 Frazier Tunes up for the Klash with a Victory
kalamazoo
Matt Frazier collected a hard fought victory in the 92.5 the ZUU Showdown for the NASCAR Whelen All-American Series Outlaw Super Late Models Saturday night at Kalamazoo Speedway. Rick Senneker set quick time and charged from 13th starting spot to finish second ahead of Mike "Bubba" Brooks, Jeff Bozell and Mark Shook. Last week's winner Dave Lober finished sixth beating out Billy Shannon, Dan Roodvoets, Kevin Butzin and Justin Lanting. Lober and Tom Rutherford won the heat races. Brooks, who is in search of his third consecutive title, has now cut Shook's point lead to just 23 points, with three point races left. Bozell (-42) and Shannon (-66) also sit within striking distance of collecting their first titles.
In the Super Stock division Buddy Head set quick time, started dead last, and drove through the entire field to collect the victory. Kenny Head finished a solid second ahead of Brandon Lyons, Chris Shannon and David Guarino. Carl Burlingham led the second half of the top ten over Jack Cook, Tom Wright, Mike Williams and Gary Denzel. Lyons and Burlingham won the heats. Buddy Head now leads Lyons by just 76 points with three races to go.
Former Pro Stock champion Greg Haynes picked up the victory in the thirty lap feature. Zach Westdorp finished second ahead of Brent Hook, Barry Jenkins and Greg Brown. Chaz Hook finished sixth beating out Jerry Zachary, Dave Hopwood, Bruce Wiard and Wil Raber. Notable finishers included point leader Matt Corliss, who finished a disappointing 13th. Lloyd Brooks was the fastest qualifier while Brown and Jenkins won the heat races.
Logan Knight charged from the last starting spot win the twenty lap Mini Stock feature. Kyle Shannon finished second ahead of Brian Echtinaw, Andrew Brest and Doug Gallandt. The second half of the top ten was led by Curtis Towne over JR Long, Tim Burns, Ryan Stutz and Jeff Long. Knight set quick time while Echtinaw and Gallandt won the heats.
The Outlaw Cyber Stock division saw young Keegan Dykstra charge from last starting and pick up the victory in the twenty lap feature. Scott Custer finished an impressive second ahead of Dan Rigoni, Nick Layman and Dyllan Uminn. Dale Leonard led the second half of the top ten over Larry Richardson, Bob Miller, Jason Ratashack and Alysa James. Dykstra also set quick time while Rigoni and Uminn won the heat races.
Brock Sweeter capped off a "perfect" 160 point night by collecting the victory in the fifteen lap Flip Flop Cyber Stock feature after starting dead last. Rick LaDuke finished second beating out Jonathon Schuyler, Sam Riethman and Brad Hall. Josh VanDusen finished sixth ahead of Will Riethman, Buddy Rochefort, Keith Ribble and Joey Failing. Sweeter also set quick time and won his heat, while Failing won the other heat.
This Wednesday night, August 12th is the biggest event on the 2015 Kalamazoo Speedway schedule, Kalamazoo Klash XXIII Presented by Boyne Machine and Enterprise Iron & Metal. The event will see the top Outlaw Super Late Model drivers on the planet battle it out for 125 laps. Two-time and defending NASCAR Camping World Truck Series Champion Matt Crafton (driving a car prepared by Terry Senneker) headlines the incredible list of over thirty entries for the most prestigious Outlaw Super Late Model race on the planet. In addition to the Outlaw bodied cars template fans will get to see the ARCA/CRA Super Series go 125 laps in the Boyne Machine 125. The entry list for that event is headlined by current NASCAR Camping World Truck Series driver and 2014 Snowball Derby winner John Hunter Nemechek. This promises to be a can't miss event for any true race fan. Practice for the Klash will take place Tuesday night from 5:30-8:30 and grandstand admission is FREE!
Kalamazoo Speedway plays host to some of the best entertainment events in the state of Michigan, and welcomes corporate groups, family outings, suite rentals, and clean family fun. Call 269-692-2423 Monday through Friday to learn more!
For more information on Kalamazoo Speedway visit www.kalamazoospeedway.com.
Be sure to become a fan of Kalamazoo Speedway for all of the latest news and contests at: www.facebook.com/KalamazooSpeedway.
You can also follow Kalamazoo Speedway on our official Twitter page: www.twitter.com/kzoospeedway.