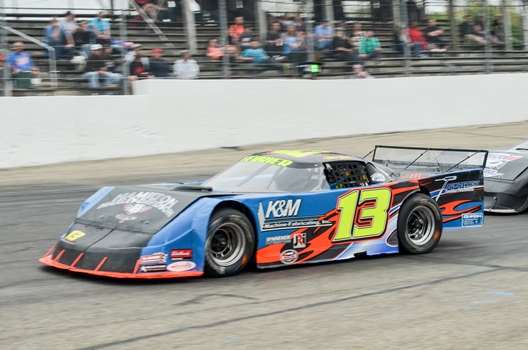 Ferrier Makes Three Winners in First Three Races of 2015 Season at Kalamazoo
kalamazoo
Robbie Ferrier picked up his first career Kalamazoo Speedway Outlaw Super Late Model victory Saturday night by capturing the USA Earthworks 40 Presented by Titan Equipment. Rookie driver Jerry Pierman ran a very impressive second place ahead of Billy Shannon, AJ Foote and Jeff Bozell. Two-time defending champion Mike "Bubba" Brooks set quick time and finished sixth ahead of Mark Shook, Rick Senneker, Matt Frazier and Randy Day. Notable finishers included Todd Currier, who finished 12th. Tom Rutherford and Randy Day collected the two heat race victories. Shannon now leads the point standings by just five over second place AJ Foote. Shook (-54), Brooks (-60) and Bozell (-70) round out the top five.
Kenny Head became the third different Super Stock winner in three races by picking up the win in Super Stock Mania Presented by Lane Automotive. Brandon Lyons finished a strong second ahead of point leader and fast qualifier Buddy Head, Eric McGlothlen and Rodney Smith. Tom Wright led the second half of the top ten over Chris Shannon, Dave Leonard, Jack Cook and Robby Henderson. Buddy Head now holds a 16 point advantage over Lyons. Kenny Head (-47), McGlothlen (-47) and Shannon (-58) complete the top five in the standings.
As if winning the Outlaw Super Late Model feature wasn't enough, Robbie Ferrier also collected the victory in the Pro Stock feature. Former champion Greg Haynes finished second ahead of fast qualifier Matt Corliss, Brent Hook and Greg Brown. Young Wil Raber finished a solid sixth beating out Chaz Hook, Danny Oxford, Zach Westdorp and Barry Jenkins. Notable finishers included defending champion John Foote Jr. in 16th and Keith Wilfong in 21st. Twenty five Pro Stocks warranted three heat races, which were won by Ferrier, Foote Jr. and Jerry Zachary.
Mini Stock Mayhem Presented by Sweet Manufacturing saw Logan Knight collect the victory after starting in the last position. Chuck Greer finished second beating out Andrew Brest, former Outlaw Cyber Stock champion Keith Dunham and Steve Potter. Brian Echtinaw led the second half of the top ten ahead of Jim Long, Curtis Towne, Kyle Shannon and Jeff Long. Potter and Kyle Shannon collected the two heat race victories.
Dan Rigoni picked up his first career victory in the Outlaw Cyber Stock feature. Keegan Dykstra finished second ahead of DJ Oxford, Larry Richardson and fast qualifier Josh Roberts. The second half of the top ten was led by Jeremy Young, Bob Miller, Brian Gregersen, Nick Layman and Doug Nelson.
The Flip Flop Cyber Stock feature saw Brock Sweeter collect his first career victory in their twenty lap feature. Sweeter also set quick time and had to start dead last in the seventeen car field. Brad Hall finished second ahead of Keith Ribble, Lucas Palmer and Sean Hughes. The second half of the top ten was led by Lynne Zachary, Jennifer Baughman, Rachel Wiard, Joey Failing and Dwight Anderson.
Sunday, May 24 the Four Cylinder Enduro Series kicks off the 2015 season with the running of the Veterans 200 Presented by Little Caesars. The action packed evening will be kicked off with the fan favorite Spectator Drags and will conclude with the always entertaining Powder Puff race. Pit Gates will open at 2:00, general admission gates will open at 4:00 and the event will start at 7:00.
Next Saturday, May 30 will see yet another full 6 in 1 show featuring the Weller Auto Parts 40 for the NASCAR Whelen All-American Series Outlaw Super Late Models. Billy Shannon brings will put his slim five point lead on the line over AJ Foote, Mark Shook, Mike "Bubba" Brooks, Jeff Bozell and the others. The Outlaw Super Late Models and Super Stocks will both be looking for their fourth different winner in as many races. The Pro Stocks and Mini Stocks will also be in action, as will the Outlaw Cyber Stocks, who will be running the $300 to win "Goat Roper 25 Presented by Hoosier Tire". The Flip Flop Cyber Stocks will complete the program.
Kalamazoo Speedway plays host to some of the best entertainment events in the state of Michigan, and welcomes corporate groups, family outings, suite rentals, and clean family fun. Call 269-692-2423 Monday through Friday to learn more!
For more information on Kalamazoo Speedway visit www.kalamazoospeedway.com.
Be sure to become a fan of Kalamazoo Speedway for all of the latest news and contests at: www.facebook.com/KalamazooSpeedway.
You can also follow Kalamazoo Speedway on our official Twitter page: www.twitter.com/kzoospeedway.