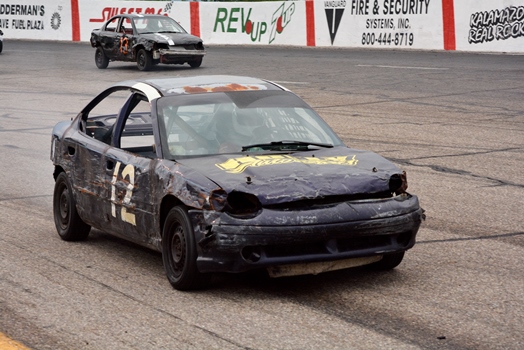 Dupuis Takes Stars & Stripes Enduro @ the Zoo
kalamazoo
Veteran Tristan Dupuis picked up his first Kalamazoo Speedway Enduro victory of the season Saturday night by capturing the Stars & Striped Enduro Presented by Orrin B. Hayes. Brad Baklund ran a very impressive race and finished a solid second ahead of Lenard Ganey, Ed Clawson and Pro Stock regular Barry Jenkins. Jerrud Stout led the second half of the top ten beating out Rielly Meade, Brock Neeson, Terry Ferrell and Zach Westdorp.
The Vores Compact Touring Series was also on hand and saw a great race with Daniel Irvine emerging victorious. Fast qualifier Todd Metz Jr. was the runner-up ahead of Chris Jennings, Jake Albright and Craig Frase. Travis Loop finished sixth ahead of Wayne Stack, Andy Jennings, Jeremy Young and James Trussel.
This Saturday, July 11th racing action returns with a full 6 in 1 show featuring the rescheduled Lane 75 Presented by Raceceiver for the NASCAR Whelen All-American Series Outlaw Super Late Models. AJ Foote will look to hold on to his slim 15 point lead over Mark Shook, Mike "Bubba" Brooks, Billy Shannon, Jeff Bozell and the rest of the field. Also in action will be the Super Stocks, Pro Stocks (running the Pro Stock Rumble Presented by Boyne Machine), Mini Stocks, Outlaw Cyber Stocks and Flip Flop Cyber Stocks.
Kalamazoo Speedway plays host to some of the best entertainment events in the state of Michigan, and welcomes corporate groups, family outings, suite rentals, and clean family fun. Call 269-692-2423 Monday through Friday to learn more!
For more information on Kalamazoo Speedway visit www.kalamazoospeedway.com.
Be sure to become a fan of Kalamazoo Speedway for all of the latest news and contests at: www.facebook.com/KalamazooSpeedway.
You can also follow Kalamazoo Speedway on our official Twitter page: www.twitter.com/kzoospeedway.