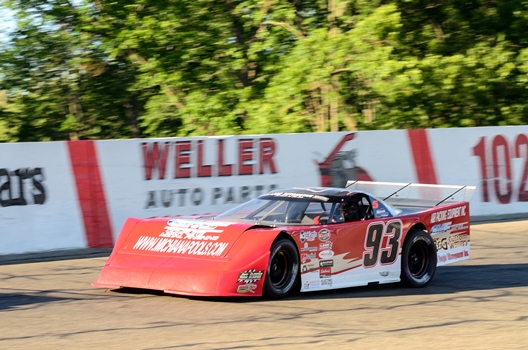 Doug True Wins Klash Tune-Up @ the Zoo
kalamazoo
Veteran Doug True came out on top of an attrition filled NASCAR Whelen All-American Series Outlaw Super Late Model feature Friday night at Kalamazoo Speedway.  The race was the final tune-up before Wednesday night's 24th annual Kalamazoo Klash.  Former Plymouth Speedway Late Model champion Adam Terry was the runner-up beating out 1995 Super Stock champion Billy Shannon, Matt Frazier and fast qualifier Mark Shook.  Rookie Chris Garrett led the second half of the top ten over Tyler Henney, 2013 Outlaw Cyber Stock champion Jack Cook, three-time defending champion Mike "Bubba" Brooks and Jordan Hunderman.  Notable finishers included Rick Senneker and Tom Thomas, who finished 11th and 14th respectively.  Thomas and Frazier won the heats.  With just two point races left Shook now leads Senneker by just 34 points.  Brooks (-61) and Frazier (-134) also remain in title contention.
Point leader and defending champion Buddy Head picked up the win in the thirty lap Super Stock feature.  Cory Pressler finished a solid second ahead of David Guarino, Ron Maynard Jr. and Nick Pressler.  Marc Casey finished sixth ahead of 2015 Outlaw Cyber Stock champion Keegan Dykstra, Gary Denzel, four-time track champion Kenny Head and Terry Hard.  Brandon Lyons set quick time and won his heat race while Kenny Head won the other heat.
Greg Brown did everything he could to keep his championship hopes alive by picking up the victory in the Pro Stock feature over fast qualifier Matt Corliss, Chaz Hook, Keith Wilfong and veteran Brent Hook.  Three-time champion Greg Haynes finished sixth ahead of Kyle Ribble, Matt Maurer, Bob Miller and Barry Jenkins.  Chaz Hook and Joe Gonzales won the heat races.
Dan Rigoni set quick time, started dead last and drove all the way to victory lane in the Outlaw Cyber Stock feature.  Nick Layman was the runner-up beating out Larry Richardson, Brian Gregersen and Mason Dykstra.  2015 Flip Flop Cyber Stock champion Brock Sweeter led the second half of the top ten over Jeremy Young, Daelynn Post, Pete Doxey and 2010 champion Dale Leonard.  Gregersen and Mason Dykstra won the heats.
The Flip-Flop Cyber Stock division lived up to its name by racing their 15 lap feature in the opposite direction.  Josh Nyberg came out on top over Troy Wilkes, Joey Failing, Tony Lobretto and point leader Lane Head.  Russ Heath finished sixth ahead of Nick Failing, fast qualifier Travis Reniger, Cory Sobralski and Danny Payne.  Lobretto and Payne won the heat races.
Kalamazoo Speedway also hosted the GLOW Modified Series Friday night.  Ron Coburn came out on top of the 25 lap feature beating out Jim Lawson, Tony Campbell, Chad Teauge and Don Smith.  Ken Quimby, Bob Martin, Greg Coburn, fast qualifier Josh Coburn and Jeremy Hamilton completed the top ten.
This WEDNESDAY, August 10 the biggest event of the season takes place with the running of the 24th annual Kalamazoo Klash.  38 Outlaw Super Late Models are currently registered to take part in the event known as the #1 Outlaw Super Late Model race in the country.  Among those names is two-time NASCAR Camping World Truck Series Champion Matt Crafton, who finished 4th in this event one year ago.  In addition to the Outlaw Super Late Models, the ARCA/CRA Super Series will also be on hand.  That entry list is headed up by 2015 NASCAR Camping World Truck Series champion and current NASCAR Xfinity Series Chase Grid leader Erik Jones.  Jones also just announced a deal to move to the Sprint Cup Series full time in 2017 as a teammate to Martin Truex Jr. at Furniture Row Racing.
Kalamazoo Speedway is the place to be in 2016 for fast, clean, family fun! Pick up a copy of the Kalamazoo Speedway schedule at the ticket office or look it up at www.kalamazoospeedway.com. Kalamazoo Speedway plays host to some of the best entertainment events in the State and welcomes corporate groups, family outings and suite rentals. Call 269-692-2423 Monday through Friday to learn more or visit the Kalamazoo Speedway website.
For all the latest news and contests check out www.facebook.com/KalamazooSpeedway.
You can also follow Kalamazoo Speedway at www.twitter.com/kzoospeedway.