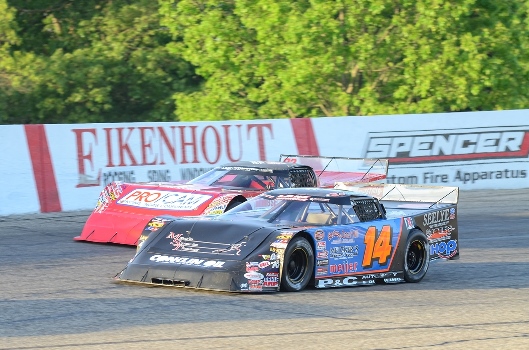 Defending Champ Gets Back to Victory Lane in Lane 75
kalamazoo
Defending NASCAR Whelen All-American Series Outlaw Super Late Model track champion Mark Shook picked up his first win of the 2017 season Friday night at Kalamazoo Speedway in the Lane 75. Shook became the fourth different winner in the first four races of the season. Jeff Ganus, who made his first appearance of the season, finished an impressive second ahead of 2011 champion Phil Bozell, fast qualifier Terry Senneker and Tom Thomas. Todd Harrington led the second half of the top ten over Doug True, 12-time champion Andy Bozell, rookie Andrew Brest and Steve Stacey. Notable finishers included Matt Frazier in 17th and Adam Terry in 18th. Frazier won the Last Chance race. Shook's victory now gives him a 31 point advantage over Thomas in the battle for the championship. Harrington (-46), Terry (-105), Frazier (-107), Rick Senneker (-133) and True (-139) also remain in contention.
The Auto Value Bumper to Bumper Super Sprints were in town and Ryan Litt picked up the victory by narrowly edging out Aaron Pierce. Fast qualifier Bobby Santos finished third ahead of Ryan Gillenwater and Jason Blonde. Geoff Kaiser, veteran Jeff Bloom, Nick Landon, Terry Alberts and Doug Dietsch completed the top ten. Blonde and Litt collected the heat race victories.
In the first Burg Stock vs. Zoo Stock battle of the year it was Jacob Alexander coming out on top. Alexander set quick time, started dead last and drove his way through the entire field to pick up the victory. Paul Bittle finished second beating out Tyler McGhan, Will Slaugther and Eryn Hartv. Andrew Losey ended the night in sixth ahead of Steve VanVleet, Rick LaDuke, Matt Elsey and Shane Miller.
This Friday, June 9 all five Kalamazoo Speedway divisions will be in action highlighted by the NASCAR Whelen All-American Series Outlaw Super Late Models. We will see if there will be a fifth different winner in the firth five events or if someone will finally crack into victory lane for the second time in 2017. Plus Super Stocks, Pro Stocks, Outlaw Cyber Stocks and Flip Flop Cyber Stocks will be back in action as well. It will also be the re-scheduled Autograph Night where fans will be given the opportunity to go down in the pits from 6:30-7:15 to mingle with the drivers and collect some autographs. It will also be Scooter giveaway night as several scooters will be given away to the kids. Finally it is also Classic Car Night and anyone bringing a classic car will be given the opportunity to drive around the track during intermission.
Kalamazoo Speedway is the place to be in 2017 for fast, clean, family fun! Kalamazoo Speedway plays host to some of the best entertainment events in the state and welcomes corporate groups, family outings and suite rentals. Call 269-692-2423 Monday through Friday to learn more or visit the Kalamazoo Speedway website.
For all the latest news and contests check out www.facebook.com/KalamazooSpeedway.
You can also follow Kalamazoo Speedway at www.twitter.com/kzoospeedway.