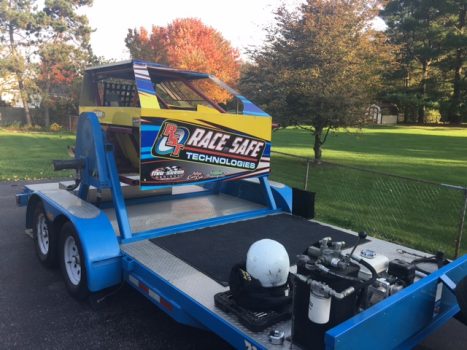 Christmas Comes Early For Kalamazoo Speedway and Kalamazoo (Speedway) Track Services
kalamazoo
Kalamazoo, Michigan. Paul Lapaire, from New Mexico, has a story to tell on safety. Eight years ago, his daughter's fiancé, Ryan Bard, was killed in a fiery dirt track accident when Bard's car flipped and he was unable to exit the vehicle. In response, Lapaire channeled his grief into constructing the FlipR, a roll-over simulator designed to train drivers how to get out of a car following a rollover crash by building muscle memory through simulated practice. Lapaire is not located in as close proximity to race tracks in New Mexico as would make the simulator maximally useful so through a set of fortuitous circumstances he contacted Kalamazoo Speedway owner, Gary Howe.
Circle Track magazine's Bob Boles touted the Kalamazoo Speedway safety truck as top notch and what you'd expect to see in NASCAR Sprint Cup and Indy Car racing. A 2016 Kalamazoo Track Services (KTS) drill featured live training of fire suppression, vehicle extraction, vehicle rollover and air flight landing zone training. This and similar efforts are part of the training employed by KTS (all trained firefighters and paramedics) to promote safety through excellence. KTS Supervisor, Jake Steele, worked closely with Lapaire and now this simulator is here, as a generous gift to the Kalamazoo Speedway, to further the Speedway's stellar safety efforts.
Speedway owner, Gary Howe, said "Before someone can run on our track, the race car must be equipped with safety equipment that is proven to save lives, but any promoter will tell you that fire is another matter. Driver panic and fire has always scared me. This simulator will allow drivers to practice extrications so in the event a worst case scenario happens, both the driver and the Kalamazoo Track Services team can do everything in their power to ensure no one is hurt. We are overwhelmed by Paul's story and his incredible generosity".