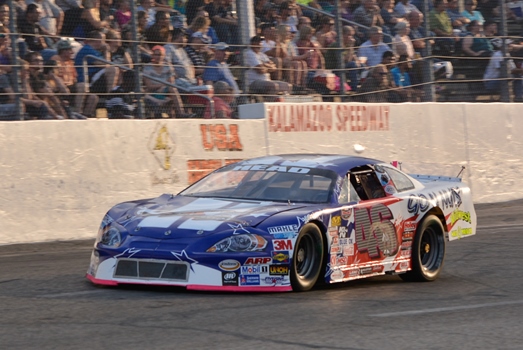 Buddy Head Wins 92.5 the ZUU Shootout
kalamazoo
Buddy Head set quick time, started in 13th position and then proceeded to charge through the field and make a late race pass on Jim Leonard to win Saturday night's 92.5 the ZUU Shootout for the Super Stocks at Kalamazoo Speedway. Nick Pressler ran an impressive second ahead of Jon Beach, Leonard and Kenny Head. Brandon Lyons recovered from a spin to finish sixth beating out Chris Shannon, Mike Williams, Jordan Hunderman and Tom Wright. Beach and Lyons won the heat races.
The Pro Stock division put on yet another fantastic race with Matt Corliss emerging victorious. Corliss set quick time earlier in the day and had to start in 13th position. He methodically worked his way through the field and made the winning pass late in the race on Danny Oxford, who held on to finish second ahead of former champion Greg Haynes, Brent Hook (from the tail) and Josh Highbaugh. Wil Raber led the second half of the top ten over Matt Maurer, Zack Cook, Doug Smith and Barry Jenkins. Corliss completed his "perfect night" by winning his heat race as well. Jamie Miller won the other heat.
Brock Sweeter brought home the victory in the Flip Flop Cyber Stock feature beating out Josh Forney, Brad Hall, Ricky LaDuke and Jonathon Schuyler. Pete Doxey finished sixth ahead of Tracy Pineau, Larry DeHart, Randall Newsome and Sam Heil. Keith Ribble set quick time while Doxey and Pineau won the heat races.
The Vores Compact Touring Series made started their double header weekend at the Zoo with Todd Metz Jr. picking up the victory over Greg Sturm, Dan Rigoni, Jeff Sayles and John Neal. The second half of the top ten was led by Ryan Hoffman over Todd Metz Sr., Wayne Stack, Mike Long and Craig Frase. Dan Irvine set quick time while James Trussell picked up the 'B' Feature victory. Heat races went to Neal, Stack and Metz Jr.
In addition to the regular racing program, Kalamazoo also hosted a Trailer Race and a Lights Out Race to entertain the fans. Scott Custer won the trailer race over Brock Nesson, Drew Maxwell, Chris Primley and Curtis Towne. In the Lights Out Race Adam Wilfong collected the victory over Brock Neeson, Drew Maxwell, Corey Sabolski and Joey Failing.
The second half of the weekend double header takes place Saturday, July 4 with the running of the Stars & Stripes 200 Enduro. The Vores Compact Touring Series will also be in action and a late addition to the schedule will be the fan favorite Spectator Drags. The night will conclude with the Biggest Fireworks Extravaganza Ever at the Zoo!
Next Saturday, July 11th racing action returns with a full 6 in 1 show featuring the rescheduled Lane 75 Presented by Raceceiver for the NASCAR Whelen All-American Series Outlaw Super Late Models. AJ Foote will look to hold on to his slim 15 point lead over Mark Shook, Mike "Bubba" Brooks, Billy Shannon, Jeff Bozell and the rest of the field. Also in action will be the Super Stocks, Pro Stocks (running the Pro Stock Rumble Presented by Boyne Machine), Mini Stocks, Outlaw Cyber Stocks and Flip Flop Cyber Stocks.
Kalamazoo Speedway plays host to some of the best entertainment events in the state of Michigan, and welcomes corporate groups, family outings, suite rentals, and clean family fun. Call 269-692-2423 Monday through Friday to learn more!
For more information on Kalamazoo Speedway visit www.kalamazoospeedway.com.
Be sure to become a fan of Kalamazoo Speedway for all of the latest news and contests at: www.facebook.com/KalamazooSpeedway.
You can also follow Kalamazoo Speedway on our official Twitter page: www.twitter.com/kzoospeedway.