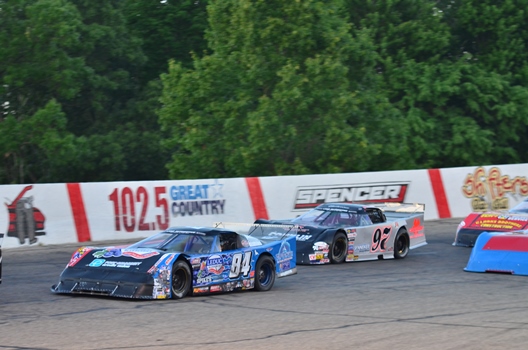 "Bubba" Wins Thriller @ the Zoo
kalamazoo
Mike "Bubba" Brooks became the first driver to win twice in 2016 by holding off Tom Thomas and Adam Terry in a thrilling late race duel in Friday night's NASCAR Whelen All-American Series Outlaw Super Late Model feature at Kalamazoo Speedway.  Thomas and Terry finished second and third respectively ahead of Doug True and Mark Shook, who rounded out the top five.  1995 Super Stock champion Billy Shannon led the second half of the top ten over fast qualifier Rick Senneker, Bill Tomlinson, Matt Frazier and Dustin Lundgren.  Terry and Chris Garrett won the heat races.  Senneker's point lead is now just 57 over Brooks with Shook (-68), Terry (-89), Thomas (-128) and Frazier (-160) all still in the title hunt.
Defending champion Buddy Head set quick time in the Super Stock division started dead last and drove all the way to victory lane in the thirty lap feature.  A pair of four-time track champions finished second and third with Kenny Head besting Brandon Lyons for the runner up spot.  David Guarino and Nick Pressler rounded out the top five.  Ron Maynard Jr. returned to the track and picked up a sixth place finish beating out Andrew Behlke, 2015 Outlaw Cyber Stock champion Keegan Dykstra, Cory Pressler and Tom Wright.  Buddy Head and Lyons won the two heat races.  Buddy's point lead over brother Kenny now sits at 97 points, with Nick Pressler just 139 points behind in third.
Kalamazoo Speedway fans have come to expect the Pro Stocks to put on a fantastic show every week and once again they did not disappoint.  Point leader Greg Brown emerged victorious after another great thirty lap feature.  Brown beat fast qualifier Matt Corliss, Kyle Ribble, three-time champion Greg Haynes and young Chaz Hook.  Bob Miller finished sixth ahead of Danny Oxford, Josh Roberts, Keith Wilfong and Shane Miller.  Notable finishers included Barry Jenkins, who finished 11th.  Brown and Wilfong won the heat races.  In a battle that promises to go down to the last lap of the season Brown now holds a slim 3 point lead over Corliss, with Wilfong only 88 points back in third.
After being upset just a week ago Dan Rigoni pulled back into victory lane after winning the twenty lap Outlaw Cyber Stock feature Friday night.  Rigoni set quick time earlier in the evening and worked his way from dead last on the grid all the way to the front.  Last week's winner Nick Layman finished an impressive second ahead of 2010 champion Dale Leonard, Ricky LaDuke and Brian Gregersen.  Young Mason Dykstra led the second half of the top ten over 2015 Flip Flop Cyber Stock champion Brock Sweeter, Jeremy Young, Pete Doxey and Doug Nelson.  Gregersen and Leonard won the heats.
The Flip Flop Cyber Stock division put on a great show with Valerie Bozell emerging victorious over point leader Lane Head, Joey Failing, Tony LoBretto and Nick Failing.  Scott Custer finished sixth beating out Grant Kasten, Todd Trowbridge, Kyra Donald and Buddy Rochefort.  Fast qualifier Travis Reniger only completed one lap and finished a disappointing 15th.  Joey Failing and LoBretto won the heats.
This Friday night, July 1 promises to be one of the biggest event at the track all season as Kalamazoo Speedway presents the first ever "Night of Doom".  Modeled after the fan favorite "Night of Destruction" this will be a night of thrills and spills that no fan should miss!  The evening will feature several events including Motorcycle Stunts, Spectator Trucks/SUV Drags, a Water Barrel Race, a Trailer Race, a Rollover Contest, an Enduro-Cross Event,  a Push Car Race, Monster Trucks, a Compact Demo Derby and of course the fan favorite Bus Races.  On top of all that the evening will begin with Monster Truck & Bus Rides for the fans and will conclude with the biggest Fireworks extravaganza in Kalamazoo Speedway history!!
Kalamazoo Speedway is the place to be in 2016 for fast, clean, family fun! Pick up a copy of the Kalamazoo Speedway schedule at the ticket office or look it up at www.kalamazoospeedway.com. Kalamazoo Speedway plays host to some of the best entertainment events in the State and welcomes corporate groups, family outings and suite rentals. Call 269-692-2423 Monday through Friday to learn more or visit the Kalamazoo Speedway website.
For all the latest news and contests check out www.facebook.com/KalamazooSpeedway.
You can also follow Kalamazoo Speedway at www.twitter.com/kzoospeedway.