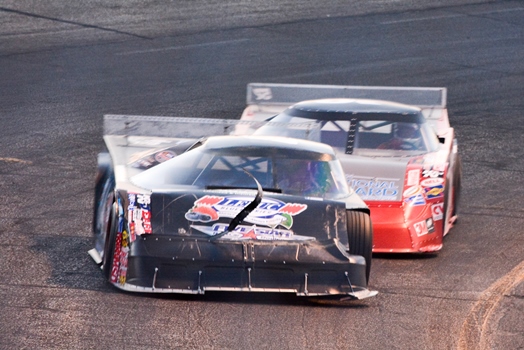 "Bubba" Wins Applebee's 40 and Becomes Fourth Winner in Four Races
kalamazoo
Two-time defending NASCAR Whelen All-American Series Outlaw Super Late Model champion Mike "Bubba" Brooks collected his first victory of the season Saturday night at Kalamazoo Speedway. Veteran Dave Lober finished an impressive second ahead of Doug True, AJ Foote and Rick Senneker. Mark Shook set quick time and came all the way from the 15th starting spot to finish sixth beating out Billy Shannon, Matt Frazier, Brandon Zachary and Dave Simpson.
A spectacular thirty lap Super Stock feature saw Buddy Head win a thrilling back and forth battle with fast qualifier Brandon Lyons. Kenny Head finished third ahead of Chris Shannon and Rodney Smith. David Guarino finished sixth ahead of Jordan Hunderman, Tom Wright, Gary Denzel and Robby Henderson.
The Pro Stocks also put on a thrilling event with Danny Oxford beating fast qualifier Matt Corliss by 0.099 seconds. Greg Brown finished third ahead of John Foote Jr. and Chaz Hook. Brent Hook led the second half of the top ten over Keith Wilfong, Barry Jenkins, Jerry Zachary and Wil Raber.
The Mini Stock feature saw Logan Knight set quick time and then drive from dead last on the starting gird all the way to the front and pick up the victory in the twenty-five lap feature. Andrew Brest finished second ahead of former champion Frank Stager, former Outlaw Cyber Stock champion Keith Dunham and Chuck Greer. Brian Echtinaw finished sixth beating out Todd Metz Sr., Curtis Towne, Ryan Stutz and Steve Potter.
Dan Rigoni ran a qualifying lap of 15.758 seconds, which put him on top of the board when qualifying concluded. It also earned Rigoni the last starting spot for the twenty lap feature. Dan methodically worked his way through traffic and collected the victory and the $300 check for winning the "Goat Roper 20 Presented by Hoosier Tire". Nick Layman finished a solid second ahead of young Keegan Dykstra, Larry Richardson and DJ Oxford. Two-time defending Outlaw Super Late Model champion Mike "Bubba" Brooks finished sixth ahead of Brian Gregersen, Josh Roberts, Daelynn Post and Jeremy Young. Gregersen and Dykstra won the heats.
The Flip Flop Cyber Stocks ran their fifteen lap feature in the wrong direction for the first time this season and put on a great show for the crowd. "Rent-a-Ride" driver Steve Helmer emerged as the victor holding off a hard charging Brock Sweeter. Jonathon Schulyer finished third ahead of Jennifer Baughman and Lynne Zachary. Brooke Derrick finished a solid sixth beating out Brad Hall, Joey Failing, John Lawrence and fast qualifier Keith Ribble. Helmer and Hall won the heats.
The Auto Value Bumper to Bumper Super Sprint Series put on a great fifty lap main event with Kyle Edwards holding off fast qualifier Aaron Pierce for the win. Jason Blonde finished third ahead of Bobby Santos and Ryan Gillenwater. The second half of the top ten was led by Derek Snyder over Kevin Feeney, Cody Gallogly, John Turnbull and Mike Stutsman. Edwards and Turnbull won the heat races.
Kalamazoo Speedway will now take a week off before coming back with a bang on Saturday, June 20. The night will feature double features for all six divisions! That's right for just a $12 ticket fans will be able to see 12 feature races! The NASCAR Whelen All-American Series Outlaw Super Late Models will be the headliners, running the Whelen 25 and 7UP 25. Super Stocks, Pro Stocks, Mini Stocks, Outlaw Cyber Stocks and Flip Flop Cyber Stocks will also double up.
Kalamazoo Speedway plays host to some of the best entertainment events in the state of Michigan, and welcomes corporate groups, family outings, suite rentals, and clean family fun. Call 269-692-2423 Monday through Friday to learn more!
For more information on Kalamazoo Speedway visit www.kalamazoospeedway.com.
Be sure to become a fan of Kalamazoo Speedway for all of the latest news and contests at: www.facebook.com/KalamazooSpeedway.
You can also follow Kalamazoo Speedway on our official Twitter page: www.twitter.com/kzoospeedway.