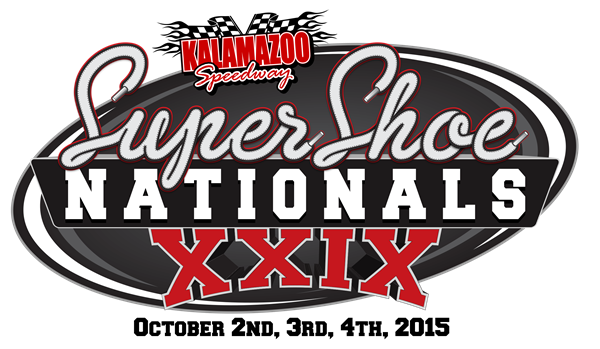 "Bubba" Makes Last Lap Pass, Collects Another Super Shoe Nationals Victory
kalamazoo
2015 NASCAR Whelen All-American Series Kalamazoo Speedway Outlaw Super Late Model champion Mike "Bubba" Brooks completed yet another dream season with a victory in the 29th Annual Super Shoe Nationals Sunday at Kalamazoo Speedway.  Brooks recovered from an early pit stop, charged through the field and made a last lap pass on veteran Brian Ross to collect the victory.  Ross finished second ahead of Brandon Lyons, Phil Bozell and Cory Pressler.  TK Whitman led the second half of the top ten over Matt Frazier, Nick Pressler, Corey Ryman and Jeff Bozell.
Other winners on "Super Sunday" included:
Mini Stock Nationals – Donnie Brest
FWD Nationals – Mike Long
Super Shoe Nationals 'B' Feature – Zach Henderson
FWD Nationals 'B' Feature – Terry Kline
Super Shoe Nationals 'C' Feature – Brent Hook
FWD Nationals 'C' Feature – Bob Brout
Super Shoe Nationals 'D' Feature – Dave Hopwood
FWD Nationals 'D' Feature – John Gonzales
Kalamazoo Speedway plays host to some of the best entertainment events in the state of Michigan, and welcomes corporate groups, family outings, suite rentals, and clean family fun. Call 269-692-2423 Monday through Friday to learn more!
For more information on Kalamazoo Speedway visit www.kalamazoospeedway.com.
Be sure to become a fan of Kalamazoo Speedway for all of the latest news and contests at:www.facebook.com/KalamazooSpeedway.
You can also follow Kalamazoo Speedway on our official Twitter page: www.twitter.com/kzoospeedway.