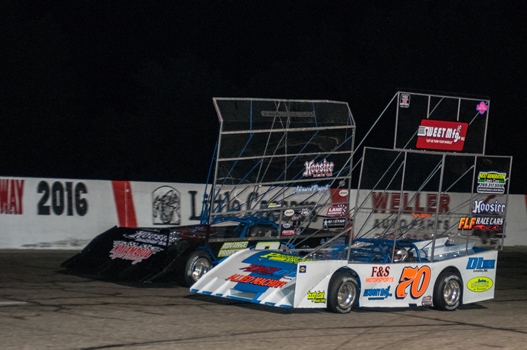 Bozell Shatters World Record; Shewchuk Wins Call of the Wild
kalamazoo
12-time track champion Andy Bozell shattered the world record for fastest speed around a 3/8 mile track during the Raceceiver Qualifying Showdown Saturday night at Kalamazoo Speedway.  Bozell ran a lap of 9.465 seconds at 142.631mph to shatter the previous world record of 9.924 held by Mike Shewchuk.  Shewchuk however did pick up the victory in the fifty lap feature.  Bozell finished a solid second ahead of Jeff Ganus, Jeff Bozell and John Long.  Dustin Lundgren led the second half of the top ten over Tyler Hufford, AJ Foote, Marc Casey and Jesse VanAvery.  Nick Pressler picked up the victory in the 'B' Feature while John Culp took home the win in the 'C' Feature.
Jason Essex picked up the victory in the 25 lap feature for the front wheel drive cars.  Essex held off fast qualifier Jeff Sayles, Travis Loop, Curtis Gray and Ryan Hufford to pick up the victory.  Willie Neal came home sixth beating out Joy Failing, Jason Patterson, Nick Failing and Logan Meinema.  Justin Hardy put on an impressive driving display to win the 'B' Feature.
After one week off Kalamazoo Speedway returns to action on SATURDAY, September 17 with the fan favorite Night of Destruction!  This event has it all: Monster Trucks, Bus Races, Mini Enduro, Gauntlet Race, Stunt Show, Fireworks and much, much more!  This is one event you will not want to miss!!  Gates will open at 4:30 and the destruction starts at 7:30.
Kalamazoo Speedway is the place to be in 2016 for fast, clean, family fun! Pick up a copy of the Kalamazoo Speedway schedule at the ticket office or look it up at www.kalamazoospeedway.com. Kalamazoo Speedway plays host to some of the best entertainment events in the State and welcomes corporate groups, family outings and suite rentals. Call 269-692-2423 Monday through Friday to learn more or visit the Kalamazoo Speedway website.
For all the latest news and contests check out www.facebook.com/KalamazooSpeedway.
You can also follow Kalamazoo Speedway at www.twitter.com/kzoospeedway.