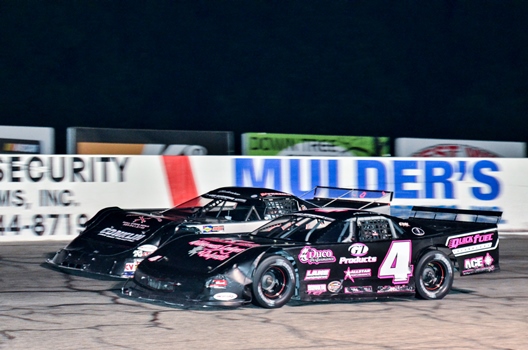 Autograph Night, Backpack Giveaway Night & Great Racing On the Lineup for Kalamazoo Speedway Tonight!
kalamazoo
TONIGHT, August 19 the 2016 Kalamazoo Speedway season continues with a full 5 in 1 show featuring the NASCAR Whelen All-American Series Outlaw Super Late Models, Super Stocks, Pro Stocks, Outlaw Cyber Stocks and Flip Flop Cyber Stocks. In addition to the jam packed racing schedule, tonight is also AUTOGRAPH NIGHT, where all drivers will be signing autographs for fans from 6:30-7:15!  Finally, it is the second annual BACKPACK GIVEAWAY NIGHT.  All kids will be eligible to win backpacks stuffed with goodies to help get them ready to head back to school!  Last year nearly 200 backpacks were given away at the inaugural event.  The backpacks will be given away first come; first serve during the autograph session at 6:30, so get there early!
Two weeks ago, Mark Shook picked up his second feature win of the season in the NASCAR Whelen All-American Series Outlaw Super Late Model division.  Shook joined three-time defending champion Mike "Bubba" Brooks and 2011 champion Phil Bozell as the only drivers to win more than once this season.  No driver has won more than twice.  The win gives Shook a 34 point lead with just two events to go over Rick Senneker.  Neither Shook nor Senneker have ever won a championship at the Zoo.  Other drivers still in championship contention include Brooks (-61) and Matt Frazier (-134).
In the Super Stock division, point leader Buddy Head is looking to put the finishing touches on his fifth division title and will be looking to do so with a victory.  Drivers that want to stand in his way include his brother, four-time track champion Kenny Head, Nick Pressler and Cory Pressler. Greg Brown picked up the win two weeks ago in the ultra-competitive Pro Stock division but defending champion Matt Corliss still holds an 80 point advantage with two races left.  Other drivers looking to spoil the party include Keith Wilfong, Barry Jenkins and Kyle Ribble.  In the Outlaw Cyber Stocks, Dan Rigoni enters the night looking to lock up his first ever track championship.  Drivers looking to stop Rigoni include Brian Gregersen, Nick Layman, Larry Richardson and 2015 Flip Flop Cyber Stock champion Brock Sweeter. Finally the Flip Flop Cyber Stocks see Lane Head enter the night as the odds on favorite, while Tony LoBretto, Joey Failing, Travis Reniger, Nick Failing and a whole fleet of Rent-a-Rides look to keep him from picking up another win and stepping closer to joining his father Buddy as a track champion.
On any given night, anything can happen. Favorites can falter, history can be made. Don't miss out!  Gates open at 4:30, group qualifying starts at 5:20 with racing starting at 7:30.
Kalamazoo Speedway is the place to be in 2016 for fast, clean, family fun! Pick up a copy of the Kalamazoo Speedway schedule at the ticket office or look it up at www.kalamazoospeedway.com. Kalamazoo Speedway plays host to some of the best entertainment events in the State and welcomes corporate groups, family outings and suite rentals. Call 269-692-2423 Monday through Friday to learn more or visit the Kalamazoo Speedway website.
For all the latest news and contests check out www.facebook.com/KalamazooSpeedway.
You can also follow Kalamazoo Speedway at www.twitter.com/kzoospeedway.