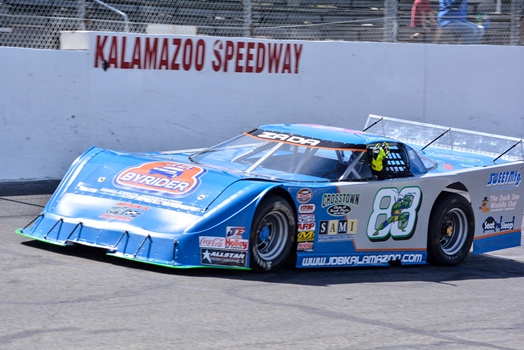 Additional Pre-Season Test Added for Wednesday, April 29
kalamazoo
Kalamazoo Speedway officials have announced that due to popular demand they have added one additional Pre-Season test to the 2015 schedule.  The test will take place Wednesday, April 29th and will run from 5:30pm-8:30pm.  Grandstand admission will be FREE!
This Saturday, May 2 is the day Kalamazoo Speedway fans have been waiting for since October! It's the season opener for the 2015 season and it will be capped off with the Intimidator 100 Presented by Allstar Performance & Ingersoll Rand for the NASCAR Whelen All-American Series Outlaw Super Late Models. Two-time defending champion Mike "Bubba" Brooks will look to get his season off to a strong start but will have to fight off several challengers including AJ Foote, Rick Senneker, Matt Frazier and Billy Shannon. In addition to the regulars, many outsiders are expected to challenge for the $2,000 top prize including 12-time champion Andy Bozell and 2011 champion Phil Bozell. In addition to the Outlaw Super Late Models also in action will be the Super Stocks, Pro Stocks, Mini Stocks, Outlaw Cyber Stocks and Flip Flop Cyber Stocks.
Kalamazoo Speedway plays host to some of the best entertainment events in the state of Michigan, and welcomes corporate groups, family outings, suite rentals, and clean family fun. Call 269-692-2423 Monday through Friday to learn more!
For more information on Kalamazoo Speedway visit www.kalamazoospeedway.com.
Be sure to become a fan of Kalamazoo Speedway for all of the latest news and contests at: www.facebook.com/KalamazooSpeedway.
You can also follow Kalamazoo Speedway on our official Twitter page: www.twitter.com/kzoospeedway.