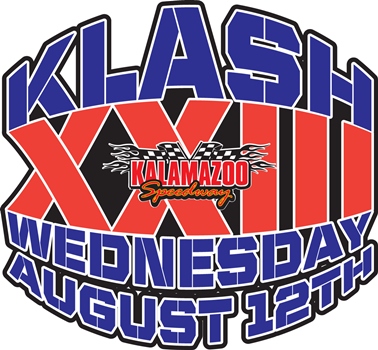 51′s By the Numbers: A Closer Look at the Kalamazoo Klash
kalamazoo
By the Numbers: A Look at Kalamazoo Klash XXIII
4 – Both Andy Bozell and Terry Senneker Jr. have won the Outlaw portion of the Kalamazoo Klash a record four times.   Chris Orr is the only other driver to win the race more than once.
5 – Terry Senneker Jr. enters the race week looking for a fourth-straight Kalamazoo Klash win.  Not only would that be a record, but the win would also give him five overall Klash wins, which would also be a record.
7 – Former winner Tom Thomas has eight top-five finishes in the Kalamazoo Klash.
8 – John Hunter Nemechek has entered the ARCA/CRA Super Series race.  He looks to become the second Snowball Derby winner to take down a win at Kalamazoo.  Kyle Busch took the honors of becoming the first in 2014.
12 – Brian Bergaker has logged five top 10 finishes in his last five starts in the Kalamazoo Klash.
23 – This will be the 23rd running of the Kalamazoo Klash. The event started back in 1993 with Andy Bozell taking down the win.
125 – Both races will be 125 laps this season.   The Outlaw portion of the Klash has had distances up to 200 in the past.
217: A long list of drivers have run the Kalamazoo Klash including notables like  Kyle Busch, Matt Kenseth,  Johnny Benson Jr., Bob Senneker, Scott Bloomquist, Ted Christopher, Mike Eddy, Gary Howe and Gary St. Amant.
The Double:  Phil Bozell and Johny Benson are the only drivers to win both the Outlaw portion of the Kalamazoo Klash and the Klash template portion of the race.  The template race started in 2011 and it was Johnny Benson taking the win to add to his Klash win in 2006.
Knocking on the Door: The Roahrig family with dad J.R. Roahrig and son Tyler Roahrig have been so close to victory in the Klash.  J.R. was third in 2014 and fourth in 2011.  Tyler was second in both 2012 and 2013, but missed 2014 due to an injury.  He has some unfinished business at the Klash.
Previous Kalamazoo Klash Outlaw Winners:
2014 Terry Senneker  Jr.
2013 Terry Senneker Jr.
2012 Terry Senneker Jr.
2011 Phil Bozell
2010 Rick Sexton
2009 Steve Needles
2008 Terry Senneker Jr.
2007 Johnny Benson Jr.
2006 Andy Bozell
2005 Lee Anderson
2004 Fred Campbell
2003 Tom Thomas
2002 Chris Orr
2001 Ken Scheffler
2000 Todd Currier
1999 Chris Orr
1998 Mike VanSparrentak
1997 Andy Bozell
1996 Bob Holley
1995 Brain Cloud
1994 Andy Bozell
1993 Andy Bozell
Past Kalamazoo Klash Template Winners:
2014 Kyle Busch
2013 Phil Bozell
2012 Johnny Benson
2011 Johnny VanDoorn