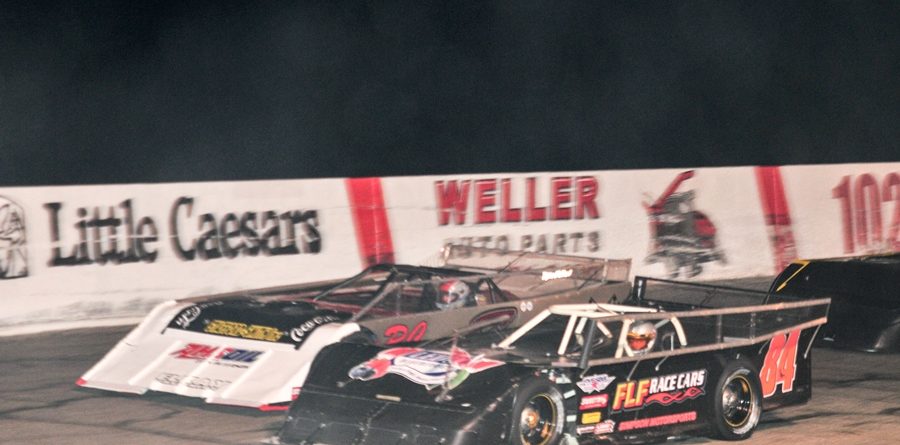 Super Shoe Nationals XXXI Parking Information
kalamazoo
As the 2017 weekly point season nears its conclusion that means one of the biggest post-season specials in the Midwest is just around the corner, none other than the 31st annualSuper Shoe Nationals! This year's Super Shoe Nationals will be run on September 31st through October 2nd and as always, promises to be a "can't miss" event for Midwestern race fans.
As in years past, there are over 175 free parking spots in the main infield, where all trucks & trailers will be unloaded & taken out of the pits; so in no way do you have to buy a parking spot. However, Kalamazoo Speedway does offer some reserved parking spots in the top pit area, where you can keep your truck & trailer in the pits (max. 28' trailer) at a cost of $100 per spot. We also have 32 reserved spots down in the 3rd pit area where haulers (28' max length trailer) can also stay in place all weekend, and these spots sell for $75 per spot. Please don't show up with a 35' trailer pulled behind a 4 door dually as our reserved spots are not big enough to hold these larger rigs and you will have to unload your car and gear. Again, there is an abundance of FREE PAVED PARKING with nearby 110 electric, so purchasing a reserve spot is not required!
Reserved Parking spots in the top two pit area's go on sale to the teams that had purchased spots last year, starting today on Tuesday, August 22nd. The only way to reserve a spot is to call 269-692-2423 during the week from 8-4:30 and talk to Kenny – No cell calls, texts, e-mails or FB messages will get your spots saved. You will need to pay with a credit card over the phone or you can drop of a check or cash at Howe Patio in Plainwell or at the track on race days. On Friday, August 25th at 8:00AM, all remaining spots will be available on a first come, first serve basis.
More information on Super Shoe Nationals XXXI will be posted in the coming days and weeks!
Kalamazoo Speedway plays host to some of the best entertainment events in the state of Michigan, and welcomes corporate groups, family outings, suite rentals, and clean family fun. Call 269-692-2423 Monday through Friday to learn more!
For more information on Kalamazoo Speedway visit www.kalamazoospeedway.com.
Be sure to become a fan of Kalamazoo Speedway for all of the latest news and contests at: www.facebook.com/KalamazooSpeedway.
You can also follow Kalamazoo Speedway on our official Twitter page: www.twitter.com/kazoospeedway.