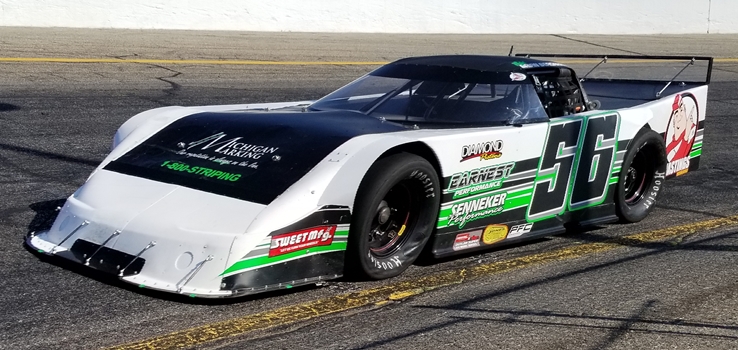 Bergakker Tops Klash Practice Night; 42 Cars on Entry List for Wednesday
kalamazoo
Brian Bergakker was the quickest of the 29 Outlaw Super Late Models that participated in testing for Wednesday's 25th annual Kalamazoo Klash Presented by the West Michigan Toyota Dealers. Bergakker ran a lap of 12.257 seconds at 110.141mph. 2015 Monster Energy NASCAR Cup Series Champion Kyle Busch was second ahead of Brandon Lyons, Tyler Roahrig and former Klash winner Steve Needles. Harold Fair Jr. led the second half of the top ten followed by John Long, former track champion Phil Bozell, current point leader Mark Shook and Doug True.
In the ARCA/CRA Super Series test session Johnny VanDoorn was the fastest with a lap of 12.944 seconds at 104.295mph. Travis Braden was second quickest ahead of Brian Campbell, Kyle Busch and Chase Purdy. Carson Hocevar was sixth fastest beating out Raphael Lessard, Dalton Armstrong, Logan Runyon and Boris Jurkovik.
Wednesday, August 18 the biggest event of the season takes place with the running of the 25th annual Kalamazoo Klash Presented by the West Michigan Toyota Dealers. 42 Outlaw Super Late Models are currently registered to take part in the event known as the #1 Outlaw Super Late Model race in the country. 2015 Monster Energy NASCAR Cup Series champion Kyle Busch. Drivers expected to challenge Busch for the victory include former Klash winners Steve Needles, Phil Bozell, Andy Bozell and Jeff Ganus in addition to several others looking to pick up their first career Klash win. In addition to the Outlaw Super Late Models, the ARCA/CRA Super Series will also be on hand. That entry list also includes Busch as well as several other heavy hitters.
The complete entry list for Kalamazoo Klash XXV Presented by the West Michigan Toyota Dealers can be found here:Kalamazoo Klash XXV Entry List

Kalamazoo Speedway is the place to be in 2017 for fast, clean, family fun! Pick up a copy of the Kalamazoo Speedway schedule at the ticket office or look it up at www.kalamazoospeedway.com. Kalamazoo Speedway plays host to some of the best entertainment events in the State and welcomes corporate groups, family outings and suite rentals. Call 269-692-2423 Monday through Friday to learn more or visit the Kalamazoo Speedway website.
For all the latest news and contests check out www.facebook.com/KalamazooSpeedway.
You can also follow Kalamazoo Speedway at www.twitter.com/kzoospeedway.